Article content
An independent review of the Trillium Line LRT has given the City of Ottawa 47 recommendations on everything from the design and construction of the system to the training of employees and train maintenance.
Article content
The review, which was requested by council in January 2022, was done by SYSTRA Canada Inc. and was delivered Friday to the city's Light Rail Subcommittee.
Among its recommendations are that the new Stadler FLIRT diesel trains that will run on the north-south Trillium line undergo additional cold weather testing to make sure that doors work in freezing rain and that trains can be started after sitting idle overnight in freezing temperatures.
It also recommends the city buy an eighth Stadler train as a spare to ensure it can keep up its planned 12-minute service in case one of the seven other trains breaks down. The city, however, rejected that, saying it can't afford the $18.5-million cost of an extra train. Instead, it says that, if one of the trains is out of service, it can keep on schedule by shortening the time the trains spend stopped at stations.
Article content
Other recommendations are highly technical, such as: "We recommend adding EN50500 standard and ICNIRP standard to the EMC Control Plan to guarantee that EMC/EMI impact on human health in railway environment is measured and within the standard specifications."
The city's director of rail construction, Michael Morgan, also updated the subcommittee on progress of the Trillium Line — it's still expected to begin carrying passengers in the fall — and showed them a sample of the daily reports councillors will receive during the testing period.
Testing of the Confederation Line was notoriously secretive, with councillors never told of test failures or even that the city had decided, mid-testing, to lower the passing grade.
Article content
Coun. Glen Gower sits on the subcommittee and was on the previous council when the Confederation Line opened in 2019. He said the amount of information councillors are receiving this time is "like night and day."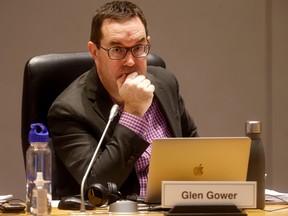 "The level of detail we're getting is just far, far greater than we did in 2019," Gower said after Friday's meeting. "We weren't getting daily reports in 2019, let along being given a chance to weigh in on what they're going to look like. The awareness we have this time is far greater.
"As councillors, we can't go in and evaluate technical systems. That's not our job. But we do have to be aware of how staff are approaching things. We now have a really good understanding of how risks are being identified and how they are being addressed."
Whether the O-Train meets its schedule depends on whether testing of the trains and signal system can begin as planned in August. Morgan conceded there is still much work to do. And there's another glitch: conflict with the massive construction underway at Dow's Lake for the parking garage of the new Ottawa Hospital campus.
Excavation and blasting there could interfere with Trillium Line operations, and at some point work crews will have to build an access road that will cross over the tracks.
"During those times, we're going to have to stop the trains," Morgan said.