They needed an actress who could play a woman powerful enough to lead a dominant hierarchy in a post-apocalyptic desert.
"You needed to have seen a lot of rough times and you weren't diminished by it," Miller said. "Tina embodied that. Everybody knows her story and she just carried that power with her."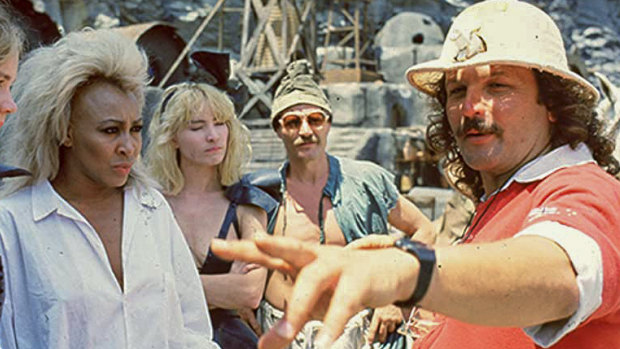 While not as much of a hit as Mad Max 2, the film's impact on popular culture included the lethal Thunderdome ("two men enter, one man leaves") and Turner's hit songs We Don't Need Another Hero and the Grammy-winning One Of The Living.
Justine Clarke, who played Anna Goanna, was a huge fan of Turner from the early years right up to the hit 1984 album Private Dancer, which was just out before filming.
"I knew every lyric, line and lick on that album and the crew got wind of my obsession with her and organised a meeting in her trailer," the popular actress-singer said. "She was sitting cross-legged, there were candles burning and it seemed like she had been meditating.
"I just remember this incredibly strong extraordinary presence, this graceful power, that emanated from her. She was warm and calm and kind to me and her smile lit up the room and my 12-year-old heart."
Thirty-eight years on from the film's release, Clarke remembers Turner being "a vision every time she appeared on set" in Norma Moriceau's iconic costume: a mesh suit with giant shoulders and silver wig.
"She didn't chat between scenes," she said. "She came to work and she stayed focused and in character."
Winter night shoots at the brick pit were brutal but Miller said Turner would wait patiently for when she was needed.
Loading
"There was absolutely nothing of the diva in her," he said. "She was just one of those people who knew what was required and was strong enough and resilient enough to adapt to whatever circumstance she was in.
"You could tell she was someone who knew how to get through tough times."
Miller later directed her in a music video for We Don't Need Another Hero, which featured a children's choir, in Pittsburgh.
After filming finished late at night, when Turner learnt the children wanted to say goodbye and get autographs, she overruled a crew member who said she wasn't available, took off her dressing gown, put her wig and dress back on and spent 45 minutes talking to them about their lives.
"She had every excuse not to do it yet she understood it was important," Miller said. "I saw that over and over again – her kindness and her generosity of spirit."
Given how often Turner mentored people, including Michael Jackson and his brothers, he suspected she was a positive influence on Gibson, who was struggling with his new Hollywood stardom at the time.
"She was one of those rare people who was able to be enhanced by her celebrity rather than be bewildered by it," Miller said.
Angry Anderson, who played Ironbar, joined the tributes to Turner when he posted on social media: "I look up to most women but you'll always be THE AUNTY".