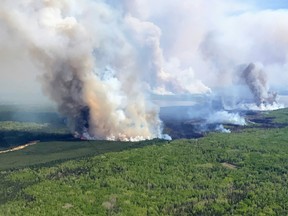 Article content
If you're looking for a story of resiliency in the face of daunting challenges, a good place to start these days is in Fox Creek.
Article content
Residents are returning to town after being evacuated for nearly three weeks due to wildfires raging in the area, with business now beginning to reopen.
Article content
Rudy Andary, who owns the Pizza Burger Joint in Fox Creek, was driving back to the community on Friday morning, hoping his restaurant might be ready to open in time to serve the dinner crowd.
It was only 21 days ago when Andary shut the pizza parlour's doors, fully expecting it would reopen within a day or two, even as fires closed in on the community about 260 kilometres northwest of Edmonton.
On Friday, his staff were busy removing spoiled food and cleaning up from the sudden closure.
"When we got the evacuation, we just closed the doors … It's three weeks of mess," said Andary, who had to leave with his wife and two children when the town was evacuated in early May.
"I'm happy to go back to Fox Creek … This is our strength, that we believe in this town — we believe this town is going to go back to normal."
The optimism comes as many small businesses across the province have been toiling over the past year to recover from the effect of the pandemic.
Article content
Then came the Alberta wildfires, which have destroyed more than one million hectares and, at one point, forced up to 35,000 Albertans to leave their homes this month. Cooler, wet weather has helped over the past week, although there were still 51 active wildfires burning on Friday.
About 5,000 people are still under evacuation orders, although many are expected to return in the next few days.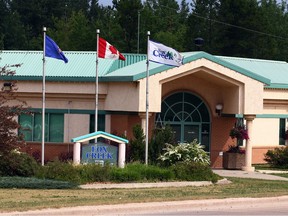 The evacuation order for Fox Creek, a town of about 1,800, was lifted on Wednesday, marking another chapter in a tumultuous month for residents and local business operators.
"There were very scary days," Mayor Sheila Gilmour said Friday.
"The day we were evacuated … I was very, very worried that the fire would come into our community. That day was a roller-coaster of emotions."
The wildfire did move within one kilometre of the town's corporate boundaries earlier this month, but no buildings were lost.
Two fires continue to burn in the area and, while not a direct threat, are still considered out of control. A four-hour evacuation alert remains in place, Gilmour noted.
The mayor knows first-hand the issues facing local companies as they get back to work. She owns two small businesses in the community, including a hair salon and a sign printing business with her husband.
Article content
Coming out of the COVID-19 pandemic, many entrepreneurs say the three-week closure is simply another challenge in the road ahead.
"It is a long-term rebuild. Sometimes it is only a couple of months that it takes to rebuild back, but we still have rent to pay, we still have utilities to pay," she added.
"But it's good to see everybody back to work, and good to see people back."
Gilmour is expecting to reopen her salon on Monday.
Meanwhile, the Freson Bros. grocery store in town was open for customers Thursday morning.
"It was incredible, nice to see a lot of familiar faces," said store manager Kyle Amos.
"Being able to give the town some sense of normalcy and being able to come down and shop … that was one of the most important parts of the process for me."
The store, one of the town's largest employers with about 40 staff, had nine workers return on Monday to help prepare for the outlet's reopening to clean, get deliveries unloaded and its shelves restocked.
Amos, who left Fox Creek with his family for Stony Plain on May 6, came back the next day to help support emergency personnel, working with town officials to ensure firefighters and others could access food.
Article content
During that time, he was able to dispose of the store's produce and baked goods, helping him keep the outlet ready for reopening. He left again on May 15 to rejoin his family, before this week's return.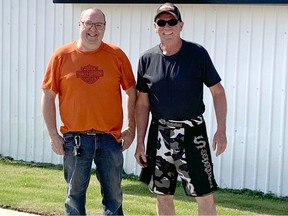 Fox Creek Chamber of Commerce president Steven Bonertz, who co-owns Alberta Safety Control, also stayed in town for almost two weeks before leaving to join his family.
While the oilfield safety company in Fox Creek was able to continue with some work in southern parts of the province, the three-week evacuation did impact business.
"COVID really hurt us … We had a good winter, and this came along," Bonertz said.
"We are happy to be back in business. We're still uncertain about the oilfields."
The wildfires aren't over yet and the broader effect on the economy is still unknown.
But in Fox Creek by late Friday afternoon, Andary was back in town and working at the Pizza Burger Joint — even before he had a chance to check up on his home.
"We're going to open, actually in a couple of minutes. We're almost ready," he said.
"It's a beautiful feeling. I'm so excited that I am back here now."
Chris Varcoe is a Calgary Herald columnist.