AFL 2023 round 11 LIVE updates: Blues rue misses from Curnow, McKay as Swans hold tight lead; Hewett off with concussion
We're sorry, this feature is currently unavailable. We're working to restore it. Please try again later.
Loading
Curnow kicks goals, pumps up crowd
Charlie Curnow has had his worries in the first half but he has booted his first set shot of the second half.
His kick was again close to the mark but it went through the goals and that is all that matters.
He pointed to his Blues guernsey as part of his celebration.
Swans 47, Blues 44 with 12 mins to go in Q3.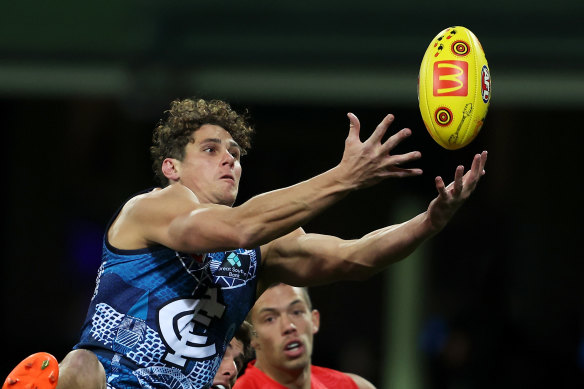 Sam Walsh has threatened all night, now he has found room and kicked a running goal to fire up the Blues.
Carlton needed someone to do something brilliant and Walsh brought himself to the fore and tried to pump up his players as best he could.
Swans 45, Blues 38 with 15 mins to go in Q3.
The Swans have made the perfect start as they pushed the ball forward and had Chad Warner receive a handball and run wide enough from the chasers to snap the goal.
Swans 44, Blues 32 with 18 mins to go in Q3.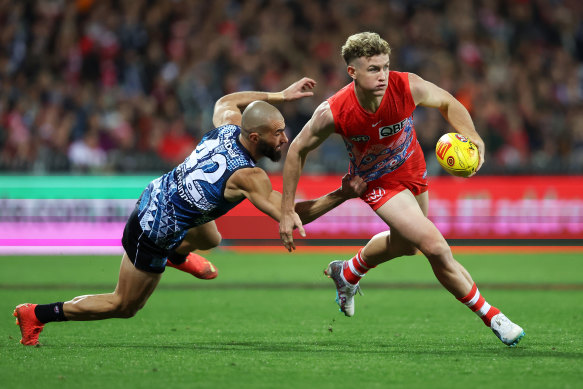 Your view: Who wins this one?
HT: Sydney 6.2 (38) to Carlton 4.8 (32)
The Swans have earned a six-point lead at the main break with some gutsy defence and brave running but their lead can also be attributed to missed chances from Charlie Curnow, Harry McKay and even Patrick Cripps who missed a long shot just before half-time.
Sam Wicks has kicked two goals and has no fear in aiming for the big sticks while Jesse Motlop has kicked two goals for the Blues.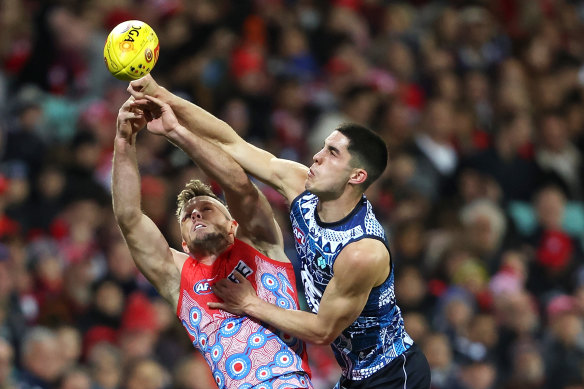 Curnow misses two good chances
Charlie Curnow has missed two set shots at goal this quarter after pulling in some strong marks and in a close game, it could prove a painful blow.
The big Blues forward has done so much right for his club this season but in a close game they will need all the goals they can kick.
One Collingwood fan has suggested a way for Curnow and Harry McKay to improve their conversion rate.
Sam Wicks has kicked his second snapping a long kick from 40m out which landed in the goal-square and could have bounced anywhere but what it did was bounce right into goal.
Swans 38, Blues 30 with six mins to go in Q2.
Motlop gives Blues vital goal
A fortunate but accurate umpire decision to call a throw against a Swans player has set the stage for Jesse Motlop to kick his second goal and keep the Blues right in this contest.
The Blues have missed some very kickable chances in this quarter despite conditions being calm and comfortable for marking and skill execution.
Motlop's goal from 30m out has brought the visitors within two points.
Swans 32, Blues 30 with seven minutes to go in Q2.
The Blues have subbed George Hewett out of the game and sent Ed Curnow in.
Swans 32, Blues 22 with 12 mins to go in Q2.