The utility must upgrade aging infrastructure amid increased demand while playing its strategic role in the province's decarbonization efforts.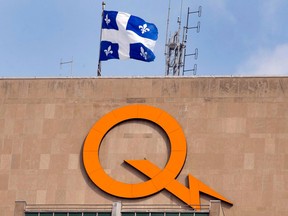 Article content
It has played a critical role in making Quebecers "maîtres chez nous." The general public generally views it with pride.
Article content
The utility is also a cash cow that contributed a whopping $3.4-billion dividend to public coffers last year, while charging Quebecers the lowest electricity rates in North America. As the world seeks to wean itself off fossil fuels and transition to clean energy to tackle the threat of climate change, Hydro-Québec has become a strategic asset.
But the state power monopoly is also at a crossroads. Its next leader, by all accounts Michael Sabia, will have his work cut out for him.
Hydro-Québec is, of course, the centrepiece of the government's plans to decarbonize the province by 2050. The electrification of transport, along with the phasing out of heating oil, are crucial for meeting these objectives. But more than that, the Quebec government also sees an opportunity in this global green shift to attract investment and promote economic growth — using cheap, clean hydro power as a draw.
Article content
The only hitch: Quebec's energy surplus is projected to fizzle out by 2026, and it will need an estimated 50 per cent more capacity on the way to carbon neutrality to meet rising domestic demand while also honouring recently inked international contracts to supply electricity to New York City and Massachusetts.
The government of Premier François Legault has raised the spectre of building new hydro dams. But the environmental and social acceptability of diverting rivers and flooding habitat might be more elusive today than in past decades, amid growing awareness of ecology and Indigenous rights.
Meanwhile, the Churchill Falls power-sharing deal signed with Newfoundland and Labrador expires in 2041 and must be renegotiated. Quebec relies on Churchill Falls for 15 per cent of its electricity. This process will take some delicacy, as Newfoundlanders feel cheated by the extremely advantageous terms Quebec forged in 1969. Legault has already made overtures to ink a new agreement sooner, if Quebec can secure favourable rates.
Article content
Sabia ran the Caisse de dépôt et placement du Québec for 10 years, rescuing the pension fund from the financial crisis, tripling its portfolio and broadening its international investments. Before that he helmed CN and Bell; since then, he has been deputy minister of finance in Ottawa.
Sabia has a proven track record strengthening and solidifying another pillar of modern Quebec. But it will take all of his formidable talent, acumen and experience to guide Hydro-Québec into an era where its mission is more crucial than ever.