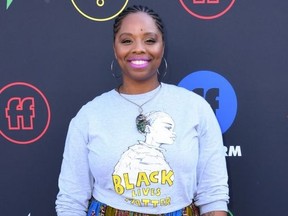 Article content
Black Lives Matter is hemorrhaging cash, according to its 2022 financial records.
Article content
BLM's Global Network Foundation, a non-profit that grew from the 2020 George Floyd protests, plunged US$8,559,748 into the red.
Article content
The group saw the value of its investment accounts drop by nearly $10 million, with fundraising down 88% year-over-year.
The filings show the non-profit recorded revenue of $8.5 million — but spent more than $17 million. The group has also been left with $30 million in assets, down nearly $11.75 million from where it started the financial year.
In 2021, the group earned nearly $42 million after expenses.
But financial woes, be damned! The organization still paid out millions to relatives of the founder and a board member.
RECOMMENDED VIDEO
According to an independent auditors' review of the previous two years, a company owned by Shalomyah Bowers, who replaced founder Patrisse Cullors when she quit, was paid $1.69 million "for management and consulting services."
Article content
Board member Danielle Edwards also owned a firm "which was paid $1,063,500 for consulting services," the online review said.
Cullors' brother, Paul Cullors, was the only salaried employee in 2022, earning nearly $125,000, with $15,000 in "other compensation" for unspecified security.
His security firm Black Ties LLC received an even bigger paycheque of $756,330, in keeping with what it was paid in 2021.
"A sibling of the former Executive Director owned a security and protection company, which was paid $1,602,185 for security services," the auditors' review noted, according to the Washington Free Beacon.
"While Patrisse Cullors was forced to resign due to charges of using BLM's funds for her personal use, it looks like she's still keeping it all in the family," Paul Kamenar, an attorney for the watchdog group National Legal and Policy Center, told the Free Beacon.
Article content
BLM also agreed to pay $600,000 to an unidentified former board member's consulting firm "in connection with a contract dispute," the Free Beacon noted.
Former managing director Kailee Scales earned the only other salary, nearly $115,000, though her payment was listed as "ongoing severance."
The five listed board members reported receiving no income from the group.
Cicley Gay, the activist group's chair current chair, was reportedly brought in to get a handle of BLM's finances — even though she has personally filed for bankruptcy in 2005, 2013 and 2016, the Free Beacon reported.
Cullors resigned from BLMGNF in 2021 after she was outed for spending millions on real estate in Los Angeles and Atlanta, though she denied using the organization's money.
In its filings, BLM said it was "working inside and outside of the system to heal the past, reimagine the present, and invest in the future of black lives through policy change, investing in our communities, and a commitment to arts."
It added: "We are building a community of healing and nurturing ecosystems that support black communities impacted by oppressive structures and injustice."