Omar Araghoune, 36, and Gretzky Marcellus, 32, were convicted of manslaughter in the death of Osvaldo Pineda Melgar.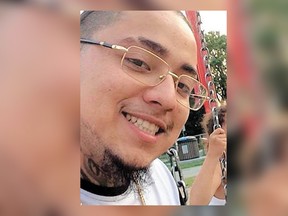 Article content
Two men who were convicted of manslaughter for their roles in a LaSalle home invasion that resulted in a father being killed in front of his young family were sentenced to lengthy prison terms at the Gouin courthouse on Wednesday.
Article content
While reading from his decision, Quebec Superior Court Justice Mario Longpré said the two key principles in determining the sentences of Omar Araghoune, 36, and Gretzky Marcellus, 32, were denouncing the crimes and dissuading others from repeating them.
Article content
On Sept. 16, 2019, Araghoune, Marcellus and a third man, Jeffrey Romel (Satan) Nauzinor, 29, stormed into the Bédard St. home of 26-year-old Osvaldo Pineda Melgar with the apparent goal of stealing drugs from him.
They forced the door to the apartment open while Pineda Melgar's nine-year-old son was preparing to head off to school. The boy and his four-year-old sister and their mother witnessed as Nauzinor shot Pineda Melgar in the back of his head while Araghoune and Marcellus searched the apartment.
Article content
Marcellus and Nauzinor were heard laughing together as they fled the crime scene. When police searched the apartment, they found crack cocaine inside a kitchen cabinet.
In December, a jury found Nauzinor guilty of first-degree murder, while Marcellus and Araghoune were convicted of manslaughter. Nauzinor automatically received a life sentence with a period of parole ineligibility set at the standard 25 years.
On Wednesday, Longpré said that while Araghoune and Marcellus did not shoot the victim, they took part in a home invasion that was planned and premeditated. The judge sentenced Araghoune to a 12-year prison term and Marcellus to a 17-year prison term. With time served factored in, Araghoune has seven years and three months left on his sentence, while Marcellus is left with 12 years and four months.
Article content
Pineda Melgar's wife testified during the trial and during the sentencing hearing. She admitted that Pineda Melgar sold drugs from their home "rarely, maybe twice a month."
She also said she and Pineda Melgar were together for many years and that she never thought they would be parted in such a violent manner.
The identities of Pineda Melgar's wife and two children are protected by a publication ban.
During the sentencing hearing, the wife said their daughter now cries at all family events whether it be Christmas or Halloween.
During her first year of school, the girl was in a class where all the students were asked to describe their family. The child told the entire class that someone shot her father and that he is now in heaven.
Article content
Pineda Melgar's wife also said the murder has had a serious impact on their son. She said he was a happy boy before the shooting but now no longer wants to celebrate birthdays.
Longpré noted that Marcellus's criminal record includes a conviction in 2013 for an armed robbery. He received a seven-year sentence in that case, but he disappeared while out on a statutory release. He removed a GPS locator that he was required to wear during his release and did an interview with a reporter about his career as a rapper, under the name Flawless Gretzky, while he was illegally at large.
The judge also noted that when Marcellus recorded a rap album, he used his statutory release card as an album cover.
While explaining the differences in the sentences, Longpré noted that Marcellus took part in the home invasion shortly after his sentence for another home invasion expired.