Smith's availability came just an hour before Pawlowski took to the legislature grounds in Edmonton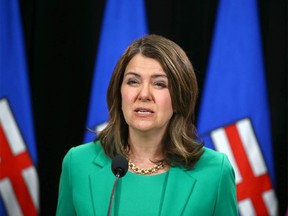 Article content
UCP Leader Danielle Smith was evasive on questions about recent controversies on Wednesday as she showcased her party's plans to limit tax increases if she wins Monday's election.
Article content
During a news conference unveiling the proposal, titled the Taxpayer Protection Amendment Act — effectively a compilation of tax-cutting promises the party has made throughout the campaign — Smith did not answer questions about whether Ponoka-Lacombe candidate Jennifer Johnson would be permanently barred from joining the caucus. Johnson is under fire for comments she made comparing transgender youth in schools to putting feces in cookies; she's since apologized.
Article content
After Smith announced last week that Johnson wouldn't be part of the UCP caucus if she's elected, she had an about-face, telling CTV "redemption" was possible for the embattled candidate. On Wednesday, Smith reiterated that Johnson would not sit as a member of the UCP if she's elected but didn't comment on the potential of Johnson working her way back into caucus.
"I've made it very clear that I've made the decision that she will not be sitting with our caucus should she be elected," she said.
The UCP's Ponoka-Lacombe constituency association advocated for Johnson in a now-deleted Facebook post that stated Johnson is still a UCP member in good standing, and talked about the "probability" that she will earn her way back into caucus.
Article content
The association pinned the post on a rogue volunteer and said the statement doesn't represent the board's views. The central party claims it's cut supports for Johnson's campaign.
NDP Leader Rachel Notley told reporters at a Wednesday afternoon availability she thinks it's "very likely" that Smith will bring Johnson back into caucus after the election, claiming Smith's governance has bolstered "extremist" views.
"The fact that that is the case goes to the issue of leadership, and the fact that she won't speak to it goes to the issue of trust," said Notley. "These are both important issues in this upcoming election."
'Nothing further to say' on Pawlowski: Smith
Smith's availability came just an hour before Artur Pawlowski — who formed his own political party, the Solidarity Movement of Alberta, on the back of his increased public notoriety — took to the legislature grounds in Edmonton for what was billed as a tell-all news conference about his dealings and phone call with the UCP leader early this year.
Article content
The call was related to criminal charges Pawlowski faced for his activities at the Coutts blockade last year and resulted in the province's ethics commissioner finding Smith was in a conflict of interest when she intervened with then-justice minister Tyler Shandro on Pawlowski's behalf.
Pawlowski has since been convicted.
Asked about Pawlowski on Wednesday morning, Smith did not answer a question about how many calls she had with the street pastor.
"The person in question has been found guilty, and I have nothing further to say on that," Smith told reporters.
Pawlowski made multiple unsubstantiated claims at his news conference, alleging he was offered bribes and amnesty on his charges by Smith's team. He refused to back those claims with dates, witnesses or any sort of corroboration.
In a written statement, the UCP said Smith has no knowledge of the allegations and it "strongly questions the credibility of his claims."
While Notley admitted Pawlowski's claims are unverified, she said his increased public exposure is a sign extremists "have far too much influence in the premier's office."
Article content
"The volume on his voice has been turned up considerably — that is because Danielle Smith is in the premier's office," Notley said. "The quickest answer to this is to get her out of the premier's office and to elect a different government on Monday."
UCP proposes referendums for tax hikes
Smith says the Taxpayer Protection Amendment Act would be the party's first piece of legislation if it's re-elected. The act would prevent future governments from increasing personal or business taxes without Albertans' approval through a referendum, and make good on a series of other tax cuts and credits promised during the campaign.
Smith says the legislation would provide income tax cuts for all Albertans, claiming all residents earning more than $60,000 should see hundreds of dollars in savings, while those making less will see a "full 20 per cent reduction on their provincial tax bill."
During the announcement, Smith criticized the NDP's plan to raise corporate taxes from eight per cent to 11 per cent, a move that's also been challenged by some economists.
"This commitment will protect Alberta job creators, employers, employees, families and investors from NDP tax increases that would burden Alberta families and drive out job creators," Smith said.
Article content
Notley says the corporate tax bump will leave Alberta's corporate tax rate the lowest in the country. She said the move would allow the government to make investments in emerging economic sectors and post-secondary that could help attract external investments.
"We are taking the lowest corporate tax rate in the country, and we are moving it to be the lowest corporate tax rate in the country: lower than (Saskatchewan Premier) Scott Moe's, lower than (Ontario Premier) Doug Ford's," she said. "So business people who suggest that they would leave because of this — frankly, I don't exactly know where they would go."
Twitter: @michaelrdrguez