Article content
When Tina Turner brought her world tour to Calgary in 2000, she blew the doors off the Saddledome. With Turner dying at age 83 on Tuesday, we pulled out the archive photos and review of that concert. Not surprisingly, the concert was stellar.
Article content
"It was hard to keep your eyes off Turner," Herald music writer Heath McCoy said in his review of the concert.
Article content
"Turner was spectacular," he wrote. "If this really is her last major world tour, as she's claimed, then she said her goodbyes to Calgary with a mighty roar."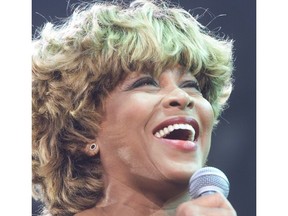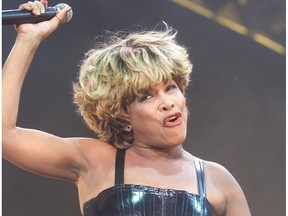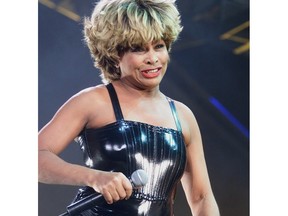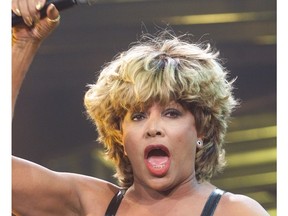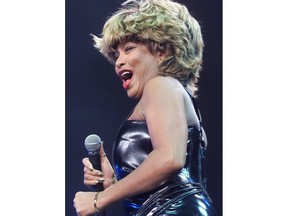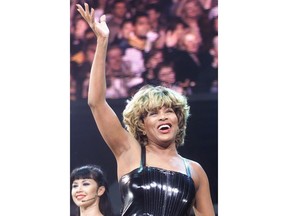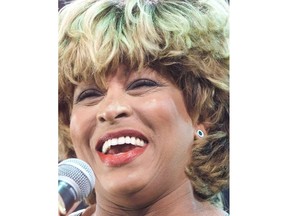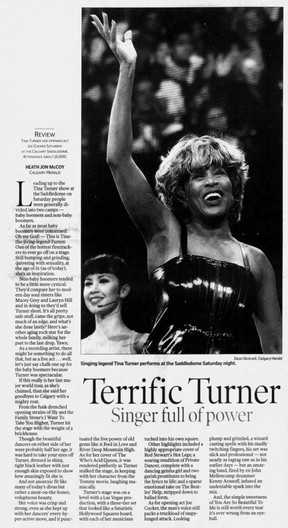 Before the concert, the Herald published this feature on Turner:
Typhoon Tina: Queen of rock 'n' roll to hit Calgary

Thu Nov 23 2000
Page: C1
Section: Arts & Style
Byline: Heath Jon McCoy, Calgary Herald

Preview / Tina Turner performs with opening act Joe Cocker Saturday at the Saddledome. / The show is sold out.
Nobody expects youthful passion or the old blazing intensity from rock's senior alumni anymore — whether it's the Rolling Stones, Rod Stewart or the Who.
But when Tina Turner steps out on the Saddledome stage Saturday, one day before her 61st birthday, chances are the explosive power of this five-foot-three dynamo will be as volcanic as it was one, two and three decades ago.
Reports from earlier stops on her current tour say she emanates fire, sweat and rapture every time she steps on a stage to belt out her classic hits. Turner has survived brutal beatings, both literally and figuratively, and has the scars to show for it.
Article content
Yet despite it all, she remains a powerhouse performer — a typhoon in a short skirt tearing up the stage.
Cynics might dismiss Turner's tour, which she says is her last, as yet another safely packaged nostalgia act for baby boomers. But such a dismissal is too easy, and it's wholly unfair to one of rock's preeminent figures.
Turner's roots go back to the early days of rock 'n' roll. She was born Anna Mae Bullock, a farm girl in Nutbush, Tenn., the second daughter of a black Baptist preacher and a black Cherokee Indian mother. Turner's biographer Kurt Loder described the home as a "parental war zone."
In an interview with the National Post earlier this year, Turner said: "Ma and I were never close. . . . When I was born, my mother didn't want another kid, so that meant I always felt like I shouldn't be here. . . . I believe it's because I wasn't that close with her that I am as strong and successful as I am today. There's no dependence."
Despite the harsh relationship, Anna Mae and her sister followed their mother to St. Louis, Mo., after their parents separated. Here she met the charismatic but increasingly bitter Ike Turner, a talented producer and songwriter repeatedly betrayed by other musicians who took credit for his work. Their first encounter came as he was attempting to revive his sagging career, playing in the nightclubs Anna Mae and her sister frequented.
Article content
Anna Mae, who had been singing in the church choir and talent shows since she was a child, asked Ike if she could sing with his band. When he ignored her pleas, she simply jumped onstage one night, grabbed the microphone and belted out a song. It was an awkward audition, but one she passed.
Ike soon changed her name to Tina, after a white jungle goddess from a Saturday afternoon matinee, and began building his band around the fiery vocalist. Though she wasn't Ike's lover at first (in 1958, she gave birth to her first son, fathered by another musician in the band), Ike christened their act the Ike and Tina Turner Revue. They were backed up by nine musicians and three scantily clad backup singers dubbed the Ikettes.
They became a major soul act in the '60s, and Tina increasingly stole the spotlight. In a 1993 article, London's Sunday Telegraph wrote: "While (Ike) stalked the back of the stage, brooding over his guitar, Tina (became) the very model of molten sexuality. Flanked by the shimmying mini-skirted Ikettes . . . Tina would take the stage in micro-skirts, long legs pumping like pistons, hair flying, mouth poised provocatively over the microphone, in shapes of sexual ecstasy. . . . A young Mick Jagger, trembling in the wings, would later incorporate many of her gestures into his own performances."
Article content
Somewhere along the way, the duo did become a couple, and married in 1962. According to Turner, her relationship with her husband was marked by physical and mental abuse from the start. Ike, who was becoming addicted to cocaine, was also flaunting his sexual liaisons with the Ikettes. He forced Tina to perform while pregnant and ill — on one occasion, after he had broken her jaw.
He shattered her nose so many times, one nostril was permanently blocked by cartilage.
Turner has also accused him in print of raping her over the course of their 16-year marriage.
Ike does not deny battering his wife, but he has insisted her version of events is not entirely true. When asked by Vanity Fair about the frequency of the abuse, he replied: "That's the biggest lie . . . I didn't hit her any more than you been hit by your guy."
By 1976, the hits had dried up for Ike and Tina. Despite a scene-stealing role for Turner as the Acid Queen in The Who's Tommy the previous year, the Turners were scraping rock bottom. Ike became even more brutal. After one last furious battle in the middle of a tour, Turner left Ike with only 36 cents and a gas company credit card to her name.
Article content
The next few years were a struggle for Turner. She raised four children, while at one point living on food stamps, and was hounded by Ike's creditors. She took work wherever she could, accepting low-end entertainment gigs in hotel lounges and third-rate cabarets, and at McDonalds conventions.
But in 1979, Turner's luck turned. She appeared as a guest star on an Olivia Newton-John television special and met the Australian singer's manager, Roger Davies, who would be instrumental in reviving her image.
Davies said he was inspired to help Turner because she was still a magnetic performer. Even at corporate gigs, she'd have people dancing on the tables. And he appreciated her attitude.
"So many artists who have had success either have a chip on their shoulder or think they know everything," Davies said in a 1993 interview. "She was different, she was hungry and incredibly determined."
At first Davis could only book Turner on tours in places such as Poland, Bahrain and Singapore. Then a kind of miracle happened: he got her the opening slot on the Rolling Stones' 1981 tour. The Stones loved her; audiences went crazy over her. Then, on the recommendation of David Bowie, Turner secured her first solo recording contract with Capitol Records. The album she turned in was 1984's Private Dancer, and suddenly the stage was set for the comeback of the decade.
Article content
Private Dancer sold 12 million units, and in 1985 Turner took home three Grammy Awards and turned heads with a starring turn as the wild-eyed Auntie Entity in the Mel Gibson film, Mad Max Beyond Thunderdome.
Her subsequent albums have racked up combined sales of roughly 20 million. While she hasn't had a hit record in years, her tours are still spectacularly successful, particularly in Europe where she has outdrawn Madonna and the Rolling Stones.
Today, Turner lives in Switzerland with Erwin Bach, a 44-year-old record executive, enjoying an almost regal lifestyle. She dresses exquisitely, favours holistic medicine and enjoys Cristal champagne. She is also a follower of Shoshu Buddhism — referred to by some as designer Buddhism because of its large following in the pop and fashion worlds. In keeping with this, she believes in reincarnation and is said to have told friends that she was once Nefertiti, Queen of Egypt.
Ike and Tina Turner were inducted into the Rock 'n' Roll Hall of Fame in 1991. Ike couldn't make it. After 11 arrests on various charges, he was convicted of possessing and transporting cocaine and was in the middle of an 18-month jail term the night of the awards.
Article content
When asked earlier this year if her struggles helped pave the way for female solo acts such as Shania Twain, Celine Dion and Alanis Morissette, Turner replied: "You know, I've been around a long time, and it makes me think that something good came from all the time I've invested in my career. I've become some kind of role model and inspiration for the younger women today, even if at the time I was doing it, it felt kind of negative. . . . So I feel that I gave something.
"I feel that those years were all worthwhile."
****
Later that year, this Associated Press article indicated Tina Turner raked in the most cash in concerts in 2000.
Tina Turner

 

tops in ticket sales: Veteran singer took in most cash on concert circuit

Fri Dec 29 2000
Page: C4
Byline: David Bauder, The Associated Press

Proving older musicians still have legs in the marketplace, Tina Turner outpaced teen heartthrobs 'N Sync to generate the most money on the concert circuit in 2000.

Concert ticket prices began to level off after years of rising rapidly, and there were worries of a slowdown, according to an annual survey by the trade publication Pollstar.
Article content
Turner, 61, took in $80.2 million US in ticket sales for 95 concerts. Her success surprised experts because it's been several years since she's had a hit record.
"She had announced it was going to be her farewell tour," said Pollstar editor Gary Bongiovanni, "and people took her at her word."
Maybe that will start a trend, although Kiss had less success on its farewell tour. The costumed rockers' long goodbye raked in $62.7 million for a whopping 128 concerts — and more are planned for 2001.
'N Sync received $76.4 million to place second on Pollstar's list of ticket revenues. The boy band sold more tickets than anyone this year, its 1.6 million edging the Dave Matthews Band.
Teen pop is going full steam: 'N Sync, Britney Spears, Christina Aguilera and the Backstreet Boys together sold four million tickets and took in $156 million, the magazine said.
Dixie Chicks and the double bill of married country acts Faith Hill and Tim McGraw did big business too, along with the reunions of veteran rockers Bruce Springsteen & the E Street Band and Crosby, Stills, Nash & Young.
While the rock band Creed generated $26.2 million from 79 concerts, Barbra Streisand made more economical use of her time — she got $27 million for only four shows. Streisand's average ticket price was $471.27.
Article content
An estimated $1.7 billion in concert tickets were sold in 2000, up from last year's record $1.5 billion, the magazine said.
The average concert ticket price was $43.75 this year, virtually unchanged from last year's $43.63. Between 1998 and 1999, prices had jumped 30 per cent.
Promoters saw spotty sales during the last few months. Some in the industry worry ticket prices have increased so much since the last recession, if there's another downturn, a concert will be considered a luxury, Bongiovanni said.
Backstreet Boys, U2 and Pink Floyd are among the artists expected to hit the road in 2001. While they won't have much trouble selling tickets, others might suffer, he said.
"As things tighten up, the more marginal acts will have a much tougher time. If they go out and sell between $45 and $80 a ticket, they will see oceans of empty seats."
****