Article content
Investigators have requested public assistance in trying to locate witnesses to a fatal collision on Highway 105 in Messines early Wednesday.
Article content
An unidentified man in his 30s and a woman in her 20s were killed, and the driver of another vehicle was seriously injured in the second serious collision this week in that part of the Outaouais region.
A news release from the Sûreté du Québec said Wednesday's tragedy involved a head-on collision of two vehicles at about 5:40 a.m.
Investigators were hoping to be contacted by anyone who may have witnessed the crash, "particularly the occupant(s) of a white pick-up truck that was traveling south on Highway 105 near the airport, in the same hours," the release said.
Anyone with information about the crash was asked to contact the Criminal Information Centre of the Sûreté du Québec at 1-800-659-4264.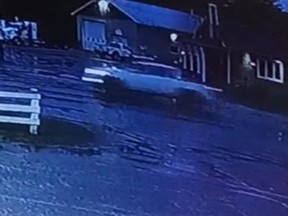 On Monday afternoon, a woman in her 60s who was a passenger in the back seat was killed when the driver of that vehicle lost control while driving on Highway 105 south of the intersection with Chemin Cécire. The driver and a front-seat passenger were seriously injured, but their lives would not be in danger, the Sûreté du Québec said.
Messines is approximately an hour's drive north of Ottawa.
With files from La Presse Canadienne