Last weekend's monster jam on Highway 20 that caused hundreds to miss their flights is a taste of things to come during construction season.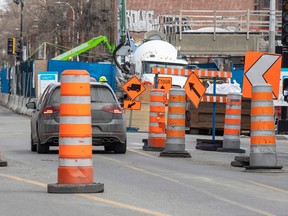 Article content
The long weekend probably didn't feel like much of a holiday for the thousands of motorists stranded in a monster jam on Highway 20 westbound leaving downtown Montreal.
Article content
A broad swath of the thoroughfare between Autoroute 25 and the St-Pierre Interchange was closed by Transport Quebec for three days to allow for demolition work that would be too disruptive on a weekday. But on Saturday, especially, it proved just as troublesome.
Article content
Some motorists reported being stuck in traffic for hours on end. Hundreds of passengers on the way to Trudeau airport missed their flights, including students from Sherbrooke on a long-awaited school trip to Greece. Some travellers trapped in taxis were seen getting out and rolling their suitcases along the shoulder. Walking to the airport was faster than losing time in the cars idling beside them.
Mayor Valérie Plante, who has made mobility in this often paralyzed city one of her priorities, expressed frustration over the congestion. Glenn Castanheira, the executive director for the Downtown Montreal Merchants' Association, deemed the situation unacceptable as Montreal's tourism sector rebounds from the pandemic.
Article content
The Highway 20 shutdown was only temporary, thankfully — but it's just a taste of things to come in Montreal, where excitement over the arrival of summer is always tempered by the headaches accompanying the onset of construction season.
Montreal's notorious reputation as Orange Cone-y Island isn't even an exaggeration. A recent study by the Chambre de commerce de Montréal Métropoltain found that over a one-year period, 94 per cent of streets in the downtown core had hosted a work site, whether operated by the city, the provincial Transport Ministry, private developers, Hydro-Québec, or some other entity. The research also found that different stretches of the same roads, including St-Urbain St. and Côte-des-Neiges Rd., were ripped up in eight consecutive years.
Article content
Even more telling, a La Presse comparison of Google Street View images found that orange cones have been present at the de la Cathédrale St. access to the Ville-Marie Expressway for 16 years. It subsequently found construction pylons have been permanent fixtures on nearby Viger Ave. and St-Antoine St for 16 years, as well. It's no wonder the striped cone has become Montreal's unofficial mascot — although it's perhaps a more fitting symbol of the city's shame.
Although there's now a strategy afoot to rein in and regulate the proliferation of these zombies after the city recently hosted a summit involving all the players to promote better co-ordination of construction work, it seems like a losing battle. The fact is the to-do list of projects to be completed during our brief construction season is incredibly long and the consequences of letting infrastructure degrade are serious.
Article content
As much as efforts have been made through Mobilité Montréal to improve co-operation and especially communication about major projects, the word doesn't seem to get out unless there is a dramatic emergency, like the sudden closure of half the Louis-Hippolyte La Fontaine Tunnel last December because it was in worse shape than expected, or a fiasco, like the Highway 20 parking lot.
There are only mitigation measures, like shuttle buses or extra Exo trains, in the most dire cases, like the La Fontaine debacle, or when a contractor error led to the total shutdown of the Île-Aux-Tourtes in the summer of 2021.
Otherwise, the city and Transport Quebec just unveil their plans and hope everyone is paying attention.
While the full roster of projects for this summer has yet to be announced, what is known so far is grim.
Article content
Starting this coming weekend, a section of eastbound Highway 40 in the West Island will be completely shut down for roadwork between Morgan Blvd. in Baie-D'Urfé and St-Charles Blvd. in Kirkland — an impediment scheduled to last until December. Face palm. Vehicles heading east will be detoured into the westbound lanes.
This will be particularly painful for motorists from off island, who are already contending with hellish traffic because of maintenance work on the Île-Aux-Tourtes Bridge. Since December, the span has been reduced to two lanes in each direction, down from three. The work to prop up the old bridge is expected to continue until a new structure is built, with the first half set to open in 2026.
And guess what? The entire Ville-Marie Expressway will be blocked in both directions this weekend, between Lucien L'Allier and Panet westbound, and between Atataken St. and the exit to the Victoria Bridge heading east. The detours onto Viger, St-Antoine and St-Jacques should make for fun times.
But in Montreal, home of the orange cone, better get used to it.
ahanes@postmedia.com