Opinion: Recent decisions by Vancouver's ABC-majority council have some observers worrying party might neglect lower-income residents' needs
Get the latest from Dan Fumano straight to your inbox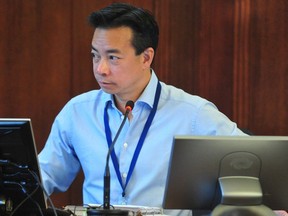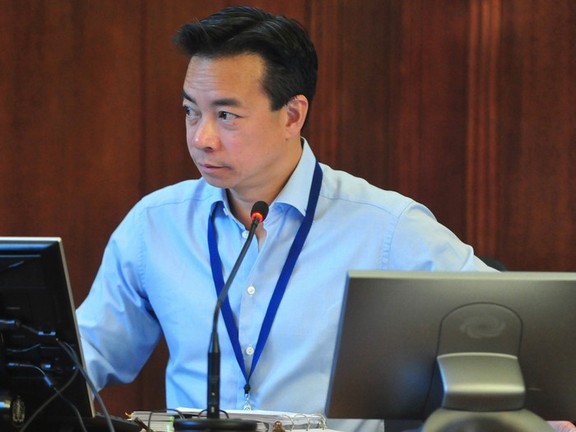 Article content
Vancouver's new civic party swept to power last year by drawing support from diverse backgrounds and political affiliations.
Article content
ABC Vancouver appealed to past supporters of the Non-Partisan Association, which had long been the city's centre-right, pro-business powerhouse. It ran some former NPA candidates, including Ken Sim for mayor. But ABC also found support from beyond the NPA's traditional base. That's why the upstart party's logo incorporated three colours, its campaign manager said after the election: Liberal red, NDP orange and Conservative blue.
Article content
Now, a little more than six months after Vancouver's ABC majority was sworn in, at least some observers say the party is at risk of alienating the more progressive side of the big-tent, centrist coalition it built.
Early in its mandate, the ABC-majority council quickly pursued some of their major campaign promises. They unlocked funds to hire more police officers and mental health workers, and took action to support revitalizing Chinatown. They made decisions and public statements supporting getting more housing built faster, including social housing.
Article content
But ABC has made decisions that were not in its campaign platform, decisions that surprised some city hall-watchers: shutting down the city's renter's office, abandoning the commitment to paying a living wage to low-income city workers, and sending millions of dollars of already collected tax revenue earmarked for social housing back to big real estate developers.
It's less surprising ABC is drawing flak from its opponents to the left, such as the defeated former mayor Kennedy Stewart.
But ABC's decisions, particularly recent ones related to housing and affordability, have put off some supporters. Kerry Jang, who served three terms on Vancouver council with the centre-left Vision Vancouver, endorsed Stewart when he ran against Sim and the NPA in 2018. But Jang liked what he saw from ABC and Sim during last year's campaign and supported them in the election.
Article content
Speaking recently, Jang said: "I'm a little surprised at how right-wing they are. … I think they're more ideologically right-wing than they ever let themselves on to be."
"They totally had me bamboozled, as well as my neighbours and relatives who asked me," Jang said. That group includes former Vision Vancouver supporters, federal Liberals and more centrist NDP supporters, Jang said, adding: "We all feel kind of hoodwinked."
Jang said he was shocked by the new council's decision to scrap the city's six-year-long commitment to paying the lowest-paid workers and contractors a living wage, calling that "picking on the most vulnerable."
Jang and many other were also perplexed by ABC's recent changes to the empty homes tax, a tax created when Vision was in power.
Article content
City staff recently recommended council exempt unsold newly built condo units from the tax. Instead, ABC's councillors applied the exemption retroactively, meaning that millions of dollars of revenue that had already been collected for social housing would instead be sent back to developers.
Jang said he could understand the exemption was needed to avoid discouraging housing development.
"But to make it retroactive?" Jang said. "Wow, that was a shocker."
Former NPA councillor Peter Ladner called the retroactive exemption "financial mismanagement."
"Maybe there's some pain with the developers, and they would have lost some money, but I don't think it's the city's business to be changing rules to make sure developers don't lose money," Ladner said.
Article content
"To go back and change the deal on their behalf, when you need that money so desperately? … That gets to their financial management, which was supposed to be their trump card."
Sending that money back to developers will not make those unsold homes more affordable for consumers, Ladner said. "Not at all."
As a cyclist, Ladner added he's been disappointed so far at ABC's lack of support for bike infrastructure.
Neither Jang nor Ladner could recall another example of Vancouver's council directing city staff to write cheques to refund corporations for taxes they had paid in accordance with existing bylaws.
ABC councillors said the $3.8 million in taxes the city would return to developers represented a relatively small amount.
Article content
That $3.8 million may not be huge in the context of Vancouver's $1.97 billion operating budget. It's even tinier when compared to the $18 billion of assets under management held by Grovesnor, an England-based company that wrote to Vancouver's council asking for the retroactive tax exemption after paying $1.6 million on empty unsold condos.
But that money could have gone a long way considering the desperate need for social housing, said Jill Atkey, CEO of B.C. Non-Profit Housing .
Consider that council decision and a couple of others from the perspective of the renters facing evictions through no fault of their own or those struggling to find affordable homes, Atkey said. "If you're stacking it up, you're going to be looking at: whose interests is this council out to protect?"
Article content
In a letter to the editor, former Vancouver Sun city hall reporter Carol Volkart imagined how Charles Dickens would have enjoyed describing the scene of "corpulent developers in pinstriped waistcoats snatching bread out of the mouths of social-housing starvelings and stuffing it into their own voracious maws."
The city's move to break up a long-standing encampment on Hastings Street last month was received by some as a necessary move to end what had become a public safety risk. But Kareem Allam, ABC's campaign manager who served as Sim's chief of staff until his resignation in February, publicly questioned how the decampment was handled and why the city acted before people had proper housing to move into.
Community groups criticized ABC for their decision to discontinue the city's renter's office, established under the previous council to ensure the city's tenant protection policies were followed. Earlier this month, ABC rejected Green Coun. Pete Fry's motion asking city staff to report to council with regular updates to track the pace of "demovictions" in the Broadway corridor.
Article content
Fry said while he also supports building new housing, these decisions suggest ABC priorities align with developers without much consideration for tenants.
ABC Coun. Mike Klassen responded that renters make up more than half of Vancouver households, and said the city has "the strongest rental protection policies in North America."
"Addressing the lack of adequate housing supply across the city is the single most important thing we can do as a council to improve affordability. To have a fighting chance of accomplishing this we need to make it easier to build housing in the City of Vancouver," Klassen said. "Our priority as a council is to get more housing built, faster — we will support initiatives that get us closer to that goal and we will oppose initiatives that don't."
Article content
That focus on getting "more housing built, faster" has been a consistent part of ABC's messaging. Recent election results suggest most Vancouver voters want politicians who support adding more housing.
But some Vancouver renters and their advocates worry about what will happen if those "strongest rental protection policies in North America" are deemed to be barriers to development. A year or two from now, if developers start telling council that those tenants and their rights are making redevelopment projects unprofitable, will those protections be weakened?
The ABC-majority council has also supported social housing, including moves that risked angering more affluent homeowners. Council asked the B.C. government to intervene to prevent a controversial Kitsilano supportive housing project from being derailed by a neighbourhood group's court challenge, and ABC unanimously backed OneCity Coun. Christine Boyle's motion aimed at fast-tracking more non-profit housing.
Article content
But council's more recent decisions, especially the last couple of months, have lower-income people worried.
Of course, it's still relatively early in the term. With the power ABC wields and the time left in their mandate, they have the ability to become the biggest champions for lower-income renters in Vancouver's history.
Appealing to the interests of private jet-riding executives might be great for political fundraising between now and the 2026 election. But any ABC politicians seeking re-election can't afford to lose the support of too many medium and lower-income workers and tenants who backed them last time. Those folks won't have as much to donate, but they add up to a lot more votes.
Article content
---
Spring subscription sale: Our in-depth journalism is possible thanks to the support of our subscribers. For a limited time, you can get full online access to the Vancouver Sun and The Province, along with the National Post and 13 other Canadian news sites, for just $40 for one year or $1 a week for 52 weeks. Support our journalism by subscribing today: The Vancouver Sun.