Justin Richardson is charged with manslaughter in the death of Antonio Wallace-Murillo, who was stabbed once in the leg before bleeding to death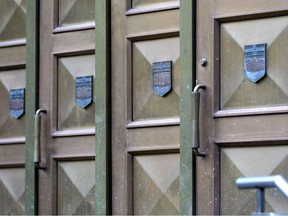 Article content
Manslaughter suspect Justin Riley Richardson got into a deadly argument with his alleged victim for failing to purchase a pack of cigarettes for him, court heard Tuesday.
Article content
Nicholas Newman, whose downtown apartment the two men were crashing in at the time, said the accused and deceased began to argue the evening of Aug. 31, 2021, after Richardson returned from a walk without cigarettes.
Article content
"What were they arguing about?" Crown prosecutor Samina Dhalla asked.
"Like a pack of smokes, or something," Newman said.
Richardson is charged with manslaughter in the death of Antonio Wallace-Murillo, who was stabbed once in the leg before bleeding to death in the 5 Ave. S.W. apartment.
Newman said the two men, himself and another friend, Lukas North Peigan Dickson, were hanging out that night and getting along.
He said North Peigan Dickson, Richardson and he were smoking methamphetamine while Wallace-Murillo was consuming marijuana.
Under cross-examination, defence counsel Alain Hepner delved deeper into the cause of the argument between the two which ended in Wallace-Murillo being stabbed.
"Isn't what happened is Justin went out for a bit, just for a walk and Antonio asked Justin to get him some smokes?" Hepner asked.
"I think so, yeah," Newman said.
Article content
"But when Justin came back he didn't stop to get smokes?"
"I think so," the witness repeated.
Newman acknowledged smoking methamphetamine makes you paranoid, but didn't recall Richardson, then 18, saying he was afraid to go to the store because there were other people there.
But he agreed the two men argued in his living room while he went to the kitchen to get a glass of water.
"At one point Antonio was going to leave and Justin said something?" Hepner suggested.
"I think so, yeah," Newman said.
He said the deceased was almost to the door of the apartment before Richardson's comment made him return, but he didn't see the actual stabbing.
"As he's leaving, Justin says something and Antonio immediately makes a U-turn and comes towards Justin," Hepner said.
"Yeah."
Newman said he heard a large crash before returning to the living room where he saw Wallace-Murillo bleeding.
In a brief opening statement to Court of King's Bench Justice Craig Jones, Dhalla said the case isn't about who stabbed the deceased, but why.
She said the evidence will establish Richardson inflicted the fatal blow to Wallace-Murillo, 19.
"The Crown expects that after hearing all the evidence the court will be able to find the accused guilty of manslaughter," Dhalla said.
On Twitter: @KMartinCourts