'Unfortunately, my dad actually passed away at the start of the month very suddenly'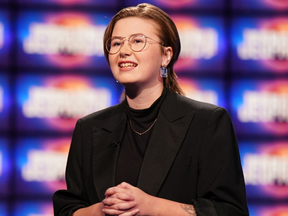 Article content
As Toronto Jeopardy! champ Mattea Roach advanced to the final round of Jeopardy! Masters, they tearfully announced that their father died while they were taping the show.
Article content
"Unfortunately, my dad actually passed away at the start of the month very suddenly," said Roach, 24, during Tuesday night's episode. "He's a huge part of the reason why I'm here he and my mom instilled an early love of geography in me my dad taught me all about Turner Classic Movies and old music and all sorts of things."
Article content
The tournament is a prime-time event that pits six of the quiz show's most fearsome competitors against one another. In addition to Roach, Jeopardy! Masters features Amy Schneider, Matt Amodio, Andrew He, Sam Buttrey and James Holzhauer.
Roach — who uses they/them pronouns — opened up about their father's death after host Ken Jennings asked them about a denim jacket they had borrowed from their dad.
Article content
Roach said the clothing item was now "on permanent loan," adding that they learned about their dad's passing while on the Masters set.
"I could not have asked for better support going through what is the worst day of my life pretty much so far," Roach said, crediting the show's producers and their fellow contestants. "Everyone who made sure that I did not have to continue playing I was able to go home and be with my mom and my brothers. My whole family is so thankful for everyone here at Jeopardy! for helping us through this really difficult time."
On social media, Roach opened up further about their father's sudden death following a brain aneurysm.
"In one of my contestant anecdotes on tonight's Jeopardy! Masters, I'm talking about my dad. I've done this many times on the show before, but this time I'm speaking in past tense [because] my dad died at the start of this month," they wrote.
Article content
"I'll say this on TV tonight but I want to express it again here — I was at the set of Jeopardy! when my dad died. Short of being at home with family, I cannot imagine a better place to be when receiving such horrific news," Roach continued.
"I also wanted to talk about my dad [because] he passed away while Masters was in production. The first seven episodes were taped before he died, the final three were taped after. (He got to see episode four in studio so he knew it was going well-ish for me)."
Article content
After their 23-game winning streak on Jeopardy! last year, Roach's father praised his child in an interview with CBC.
"She was probably beginning to read when she was about 3," he explained. "Just always showing an interest in, not necessarily academics, but learning for the joy."
Jennings was moved by Roach's tribute to her father.
"Speaking as a dad, I can only guess at how proud he must have been of you and I'm so glad he had the chance to see you play," the host said.
The official Jeopardy! Twitter account also honoured Roach, writing, "Our hearts go out to Mattea and their family."