Critics, however, say the mayor should do more to combat the housing crisis than just raise money for charity.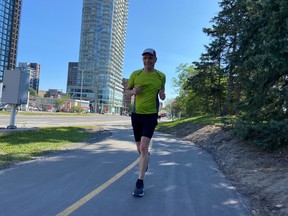 Article content
Last year, Mark Sutcliffe was running for mayor. This year, he's running as mayor.
Article content
Sutcliffe is one of about 3,000 runners who will huff and puff their way for the 42.2 km of the Tartan Ottawa International Marathon on May 28th. It will be Sutcliffe's 39th marathon since running his first in 2004.
Sutcliffe is using his run as a fundraiser for Salus, the non-profit supportive housing organization devastated by a flood caused by a fire sprinkler that burst during a February cold snap. The fourth-floor leak at Salus's main Scott Street apartment flooded almost the entire building. The total cost of the damage is still be tallied, but repairs aren't expected to be complete until winter 2025 at the earliest.
The 40 tenants who lived there, many of whom deal with severe and persistent mental health issues, were rehoused in other Salus buildings or in the community. Many lost belongings from the water damage. The building remains boarded up more than three months later.
Article content
"I went on a tour of Salus a couple of months ago and it was devastating to see what happened there," Sutcliffe said. "Obviously, affordable and supportive housing is a big priority for us this term of council and Salus is a great organization that does amazing work.
"The people who were displaced by that suffered big losses. I want to do whatever I can to support those individuals and to support Ottawa Salus and help them get back on track."
Sutcliffe set a fundraising goal of $20,000 for his campaign and has already raised more than $12,000.
"Hopefully we'll be able to increase that even more," he said.
Not everyone was impressed with Sutcliffe's fundraiser, however. The grassroots advocacy group Horizon Ottawa tweeted that the mayor should do more to combat the housing crisis than just raise money for charity; he should make it more of a priority in the city's spending.
Article content
"I don't have to do one or the other," Sutcliffe responded when asked about the criticism. "I can do both."
Sutcliffe is believed to be the first sitting Ottawa mayor to run his hometown marathon. (Former mayor Jim Durrell has run the marathon too, but it was before he held office.)
So how does the mayor find time to run? And has being mayor affected his life-long running habit?
"It hasn't changed. I run every day for more than a year. I ran every single day during the campaign and I've run every single day as mayor," he said.
Typically, Sutcliffe is laced up and on the road between 5:30 a.m. and 7:30 a.m. He normally runs 10 km every day, with longer weekend runs that have ramped up to 30k to 35k as race weekend approaches. In all, he logs about 80 to 90 kilometres a week.
Article content
"Before I got into this line of work I would mostly run in the morning," Sutcliffe said in Council Chambers, after chairing a city council meeting. "But I worked from home then so if I had to do it at another time of the day I could. Now I have to do it in the morning."
For Sutcliffe, running is a priority, even when he's running a city.
"I wasn't worried about continuing my running as mayor because I've always managed to squeeze it in, no matter how busy I've been. I'm often asked how I find the time and my answer is that running gives me energy and I couldn't do everything I do without running. You just have to make it a priority."
For the past several years, Sutcliffe has passed up running Race Weekend to provide colour commentary for Rogers television broadcast (although one year he finished his broadcast, then made his way to the start line to begin his marathon five hours late.) This year he'll be on TV for Saturday's run coverage only.
"I think it's amazing to have a mayor who is so committed and involved in his city," said Race Weekend director, Ian Fraser, a frequent training partner of Sutcliffe's.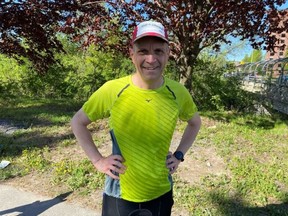 Fraser expects 30,000 runners, walkers and will have registered for the 2k, 5k and 10k on Saturday and the full and half marathons on Sunday. This year is the second in-person event since the pandemic cancelled Race Weekend in 2020 and 2021.