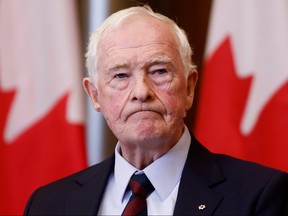 Article content
David Johnston's 55-page report on foreign interference in Canada's democratic institutions released on Tuesday sounds as if it could have been written by Prime Minister Justin Trudeau, who appointed him to the job.
Article content
Johnston's report exonerates the Trudeau government from allegations it failed to act on foreign interference for partisan reasons, based on confidential discussions he had with the PM, his cabinet ministers and government officials, the details of which he says he can't discuss publicly for reasons of national security.
Article content
As a result of this conclusion, Johnston said there is no need for a public inquiry — even though when Trudeau gave him the job of being his "independent special rapporteur" on foreign interference on March 15, he believed one would be necessary.
Instead, Johnston said he will preside over public hearings on foreign interference and that he doesn't need the power to subpoena documents or have witnesses testify under oath.
Article content
While stating his mandate didn't include addressing media leaks about foreign interference, Johnston's report goes on to criticize every one of the media leaks and the leaker or leakers, saying they led to unfounded speculation critical of the government.
Bizarrely, Johnston simultaneously asserts in his report that foreign interference by China is a growing threat to Canadian democracy, that current government measures to combat it are inadequate and that "absent the leaks, I would not have been appointed to undertake my work."
So, Johnston's pretzel logic is that inaccurate leaks about foreign interference reported by the media, led to his investigation of foreign interference, which found serious problems with how our government addresses foreign interference, that don't need to be addressed by a public inquiry.
Article content
He said combatting foreign interference should be the work of Parliament, ignoring the fact that as an unelected friend of the prime minister, appointed by the PM, he has rejected the will of the House of Commons, which voted in favour of calling a public inquiry.
While Johnston played down his friendship with Trudeau during his media conference releasing his report — even though Trudeau has described Johnston as a long-time family friend — it's difficult to understand how he could possibly believe that his report or its conclusions will satisfy public concerns about foreign interference in our democracy.