The work on LRT Line 1 will take place June 5-19.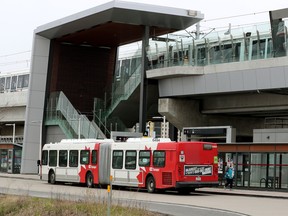 Article content
Replacement bus service will operate "frequently" during a two-week period in June while the Rideau Transit Group performs regular maintenance on LRT Line 1, Transit Services general manager Renée Amilcar said in a memo to city council Tuesday.
Article content
The work, to take place June 5-19, according to the memo, will include: Work to address water infiltration in the tunnel, east of Rideau Station; annual rail grinding across the entire line to reduce noise and vibration; overhead Catenary System, switch and track related maintenance and inspections; removal of vegetation within the guideway; general maintenance and cleaning activities, including the cleaning of glass and artwork; and paint removal at specific locations in downtown tunnel stations, concrete and tile repairs.
Line 1 LRT service will continue during the maintenance, which will take place in the evening hours to minimize the impact on customer travel, but there will be eight days when bus service will be operational on part of the line for a full day, the memo said.
Article content
"We appreciate that this work can be disruptive for our customers, and we apologize for the inconvenience this service adjustment will cause," the memo stated.
Here is the service schedule for the two-week period:
Monday, June 5: 8 p.m.- 1 a.m., Line 1 train, Hurdman to Blair; R1 replacement bus service, Tunney's Pasture to Hurdman
Tuesday, June 6: 8 p.m.-1 a.m., train, Tunney's Pasture to Parliament, Tremblay to Blair; bus, Lyon to Blair
Wednesday, June 7: 8 p.m.-1 a.m., train, Tunney's Pasture to Parliament, Tremblay to Blair; bus, Lyon to Blair
Thursday, June 8: 8 p.m.-1 a.m., train, Hurdman to Blair; bus, Tunney's Pasture to Hurdman
Friday, June 9: 5 a.m.-8 p.m., train, Tunney's Pasture to Parliament, Hurdman to Blair; bus, Lyon to Hurdman. 8 p.m.-2 p.m., train, Tunney's Pasture to Parliament; bus, Lyon to Blair
Article content
Saturday, June 10: 6 a.m.-8 p.m., train, Tunney's Pasture to Parliament, Hurdman to Blair; bus, Lyon to Hurdman. 8 p.m.- 2 a.m., train, Hurdman to Blair; bus, Tunney's Pasture to Hurdman
Sunday, June 11: 8 a.m.-8 p.m., train, Tunney's Pasture to Parliament, Hurdman to Blair; bus, Lyon to Hurdman. 8 p.m.-11 p.m., train, Hurdman to Blair; bus, Tunney's Pasture to Hurdman
Monday, June 12: 5 a.m.-8 p.m., train, Tunney's Pasture to Parliament, Hurdman to Blair; bus, Lyon to Hurdman. 8 p.m.-1 a.m., train, Hurdman to Blair; bus, Tunney's Pasture to Hurdman
Tuesday, June 13: 8 p.m.-1 a.m., train, Lyon to Blair; bus, Tunney's Pasture to Rideau
Wednesday, June 14: 8 p.m.- 1 a.m., train, Tunney's Pasture to Rideau; bus, Rideau to Blair
Article content
Thursday, June 15: Full Line 1 service
Friday, June 16: 5 a.m.-8 p.m., train, Tunney's Pasture to Parliament, Hurdman to Blair; bus, Lyon to Hurdman. 8 p.m.-2 a.m., train, Tunney's Pasture to Parliament; bus, Lyon to Blair
Saturday, June 17: 6 a.m.-8 p.m., train, Tunney's Pasture to Parliament, Hurdman to Blair; bus, Lyon to Hurdman. 8 p.m.-2 a.m., train, Tunney's Pasture to Parliament; bus, Lyon to Blair
Sunday, June 18: 8 a.m.-8 p.m., train, Tunney's Pasture to Parliament, Hurdman to Blair; bus, Lyon to Hurdman. 8 p.m.-11 p.m., train, Tunney's Pasture to Parliament, Hurdman to Blair; bus, Lyon to Blair
Monday, June 19: 5 a.m.-8 p.m., train, Tunney's Pasture to Parliament, Hurdman to Blair; bus, Lyon to Hurdman. 8 p.m.- 1 a.m., train, Tunney's Pasture to Parliament, Hurdman to Blair; bus, Lyon to Blair