For your camping trip to be an ultimate success, prior planning and acquiring the necessary gear is critical. One of the most important items, on your packing list, whether you are a wilderness expert or a novice camper, is choosing the best family tent Australia 2023.
Don't have time to read the complete buying guide to choosing the best family tent for camping in Australia? This is the tent we have been using while camping in Australia. Black Wolf are one of the best tent brands and make a range of top quality tents ideally suited to Australian conditions.
The Black Wolf Turbo Plus 300 stated sleeping capacity is up to 8 persons but is ideally suited for 3 persons. It comes in a lightweight polyester or a canvas version. The tent is very easy to set up and pack away due to its quick pitch frame, which was a deciding factor when we purchased the tent. It has a built in floor, windows on the sides and rear with built in mesh and the fly has a 3 pole design which creates a shady entrance.
There are a range of accessories available including a made to fit ground sheet, Interchangeable side panels and front panels which can be used to create additional enclosed space. We are super happy with our Black Wolf Turbo Plus 300 tent.
Check here for more reviews of the Black Wolf Turbo 300 and pricing.
If you're not a frequent camper, buying the best family camping tent for your next Australian camping trip can be quite intimidating. With the many different sizes, styles, and brands to choose from, you might not know even where to begin.
When we first started camping and looking for the best tent to suit our needs, we quickly found that there are so many options to choose from. So, not knowing which one would suit our style of camping we decided to do a lot of research before settling on our tent, which we have included amongst our reviews. We understand that everybody has different requirements so to help you pick the one best for your needs we have included a range of the top selling tents from major brands and outlined what to look for when buying a new family tent.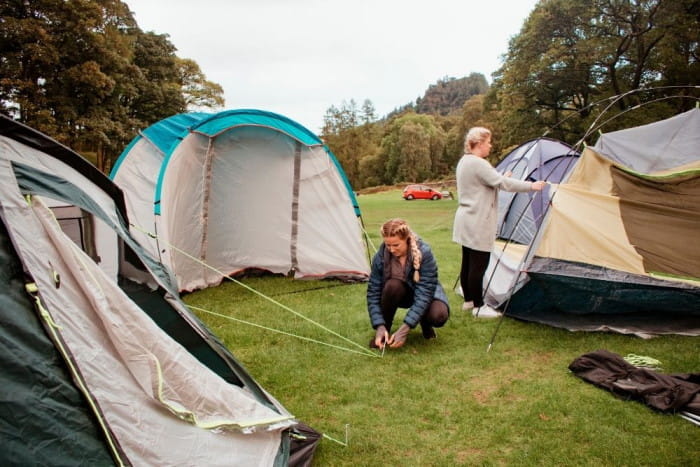 Best Tents Australia 2023
Keep reading as we provide a summary of many of the best camping tents Australia in our comparison chart followed by why choosing the right one is so important. We then have detailed family tent reviews of each camping tent, outlining the specifications. We hope you find your best camping tent and gain helpful insights into exactly what to look for.
Comparison chart for the best family tent Australia 2023
Whether you're looking for the best lightweight family tent for hiking Australia, or cold weather family tent, there is a camping tent to suit all outdoor situations in our tent reviews. Australia has a diverse climate, so the selections below include various sizes and styles and are from the most respected tent brands on the market.
To help you choose, we have listed the best family tents of 2023 for easy comparison including the per person size.
Are you planning a camping holiday or general travel in Queensland? You are welcome to join our Queensland Travel Planning Facebook Group. It is an active group with a wealth of information on travel in Queensland and we welcome new members.
The Best Family Tents Australia 2023
Here is a list of the best family tents reviews – check each of the family tent reviews 2023 below for specifications.
Black Wolf Turbo Lite Plus 300 – 8 Person
Coleman Instant Up Gold Tent – 4 Person
Marmot Catalyst Lightweight Hiking Tent – 2 Person
Black Wolf Mantis UL II Hiking Tent – 2 Person
Coleman Instant Up Gold 10P Tent – 10 Person
Coleman Instant Up Gold 6P Tent – 6 Person
Oztent RX-5 Tent + Panel System & Floor – 4 Person
Darche Nebula 1550 Canvas Swag Tent – 2 Person
Outdoor Connection Aria Elite 2 Tent – 8 Person
To help you in choosing the best affordable family tent. We have put together a comprehensive tent buying guide considering all the important aspects such as size, shape, features, and style, to make sure that you get a suitable tent within your budget.
A tent is an investment that requires careful consideration. Here are things you should consider when buying the best rated family camping tents.
Consider tent size when choosing the best tents for families
Whether it's a couple's camping adventure, a massive camping holiday throughout Australia or a closer to home camping in NSW trip, your tents size will significantly impact your overall camping trip. Tents are typically measured in 'person' to give you an idea of how many people can fit in the tent.
So, you will be seeing labels like 2-person tent, 4-person tent, 6-person tent, 8-person tent, and so on.
Now, one especially important thing I should quickly point out is that when manufacturers say a 2-person tent will 'fit' two people, what they actually mean is 'squeeze'. Remember, when you head out on a camping trip, you will have some travel gear along with you depending on what other adventurers and activities you've attached to your camping trip.
So, two people in a 2-person camping tent will be in a rather uncomfortable squeeze considering you have to fit in your gear as well. With that said, always consider upgrading to one or two sizes to accommodate your equipment. 
If you are heading out on a couples' camping trip, consider buying at least a 3-person tent which will provide enough space for backpacks, storage, and sleeping areas. But a 4-person tent would be much better. You do not want elbows in your face ruing the fun.
If you are backpacking, weight and size might be given more priority than comfort, so you might have to make do with an ultra-light, smaller tent for a snug fit. However, if your camping adventure consists of mainly driving to the campsite and unloading your vehicle, size and weight might not be such a problem.
Therefore, our suggestion if you have the space would be to choose one of the larger tents. Most of the best large family tents have multi-room compartments that act as separate bedrooms and offer some privacy.
Tent capacity rating and Tips
2-3-Person tent: this is popular among couples, and is sometimes used as a secondary camping tent, suitable for guests or teens to have their own private space away from the main larger tent. This tent offers roughly 30-45 square feet of floor area.
4-Person tent: this is the smallest tent that can be called a primary family tent. As earlier mentioned, this is a suitable pick for couples who are just getting started with camping. They're relatively easy to pack and available in dome-style to cabin-style designs. A typical 4-Person dome tent will offer roughly 60 square feet of floor area.
6-Person family tent: This is often available in either dome or cabin design. This is typically the best choice for couples with a child or two. It offers roughly 90-120 square feet of floor area and sufficient standing height.
8-Person family tent: Also available in dome or cabin styles. An 8-person tent is a popular choice for families with several children looking for a large family tent. Most extra-large, rectangular cabin tents are popular in this category. This is probably the most common largest family-size tent you will readily find with most tent manufacturers. With most 8-person tents, expect about 120-140 square feet of floor space as well as standing/roaming height.
10-Person cabin tent: this size of tents offers roughly 150-180 square feet of floor space and standing/roaming space. Tents in category vary in shape and you should check to see that it fits on the campsite tent-pad or ground that you intend to use it on. Such large tends typically need a sturdy frame that can stand strong against blowing winds.
12-Person cabin tent: this is probably the largest family tent available, suitable for open ground camping. But there are not many available in the market. The tent offers about 180 square feet of floor space as well as roaming height. These tents can be quite expensive, so if you are going to buy one, you need to do some research and find out that it performs well and lasts for a long time.
What are the best tents for family camping in Australia?
If you are looking for the best tents for camping with families our suggestion is to look for a tent that has a larger person size rating than just the total number of people in your family. By that I mean if your family is 2 adults and 2 kids then look for a tent that has a person rating of 6 people or more. The extra space is well worth the slightly extra cost of the larger tent. Especially if the kids are teens.   
Consider tent weight
Weight is another crucial factor to consider when choosing the best tents in Australia depending on your means of transport and how far you will have to walk from your car or previous location. When it comes to tent weight, manufacturers often label "trail weight" and "package weight". Trail weight consists of essential kit pieces such as tent body, poles, and rainfly only. If you are planning to carry the bare minimum, this is the weight to keep an eye on.
Packaged weight, on the other hand, covers all the gear that comes with your tent purchase, and this includes tent body, poles, rainfly, gear sack, stakes, pole sack, packaging, instructions and so on. If you are carrying the complete package, this is the accurate weight you should keep in mind.
If you are backpacking, keeping the weight to the minimum is probably your number one priority, and choosing a lightweight tent is the best way to minimise your load. You can find a number of lightweight tents on the market suitable for backpacking and they typically weight between 1-2 Kilograms which will easily fit in your backpack.
Ultra-light tents are designed to be as light as possible, but this might compromise durability and space, however, the comfort will still be reasonable. They also might have fewer features such as a smaller interior, one door and fewer zippers, but the overall idea is to keep the weight down.
If you are driving to your camping site and won't be walking for a long distance from your car, the tent size might not be such a big deal. Instead, you might want to focus on comfort as you will have more options to choose from.
Many large family-size tents are designed specifically for car camping and tend to be heavier in packaged weight. So, if you're going for one of these, make sure you can transport it from your car to the actual camping spot.
Popular family tent types and shapes
Family camping tents come in different shapes, and one style might be more suitable for you that the next one depending on several factors. For instance, larger family tents are usually more spacious and taller for full height access. Here is the main tent styles;
Dome-shaped tent: dome-shaped tents are suitable for camping in windy or snowy conditions because they are generally stable and easy to install. The dome-shaped design typically has 2, 3 or 4 poles that crisscross and pass through the centre of the roof forming an arched ceiling. They offer lots of headroom which is why they are popular.
A-frame / Ridge Tent: this design has been used for centuries by scouts, armies, and prospectors.  They typically have an "A" pole at each end and a horizontal ridge that holds the canopy. The slanting ridge limits headroom and might not be the best option for a family holiday camping where people want to move around freely. But it is quite fine for sleeping in.
Tunnel Tent: tunnel tents are quite popular at camp sites too, probably because they offer a lot of sleeping space and internal storage with good roaming and standing height. It has strong flexible poles which form a semi-circle roof. When pitching these tents, consider positioning them head into the wind.
Tent seasonality
An indication of tent seasonality helps you choose an appropriate family camping tent for the anticipated season. In this regard, tents are classified into three main categories.
1-Season tents: one season tents are generally lightweight and can only cope with mild wind and light showers. If you are only planning for a summer camping, this type will offer great ventilation and breathability.
3-Season tents: this type of tent is suitable for most climates and will perform well in the three main camping seasons i.e. Autumn, Summer, and Spring. They are the most popular because they withstand strong downpours, wind and even light snowfall.
4-Season tents: while the name suggests four seasons, this type of tent is actually only suitable for use in winter, but they can survive throughout any of the four seasons. They are designed for cold climates, deep snow, and severe winds, and they tend to have less ventilation and extra insulation. They are generally heavier and more stable compared to the other seasons.
Consider tent material
So, which material should you consider when buying your family tent? Considering the fabric and pole material used is important because it affects water resistance, breathability, stability, and insulation. Here are some of the most popular materials.
Main body
Polyester: polyester is breathable and resistant to water and UV rays and tends to be more durable than nylon.
Nylon: nylon is favoured for being breathable, water-repellent, and lightweight. It is loved by backpackers for being lightweight, but one downside is that the water-repellent coating tends to wear off over time. 
Canvas/Cotton: this traditional material is the best option for those looking for a durable tent over the seasons. It will keep you warm in colder weather and cool in summer. However, it can be quite bulky, especially when rained on.
Tent Poles
Aluminium Alloy: this is quite common in the market, thanks to it being robust, flexible and low weight
Carbon Fibre: this is common with high-end models and comes with a rather high price tag. But for that, you get a strong, lightweight pole that stands strong against the forces of nature.
Fiberglas: these are cheaper and less common because they tend to be heavy and break easily.
Ease of use
You might find a great large-sized family tent that sleeps 8 people with lots of room and storage space at a fair price. But if it will require a small army to set it up, that it probably not your best option.
You do not want to spend hours upon arrival at the campsite, trying to put a tent up. If possible, try out the tent at the shop before buying, although this might not always be a realistic request. But at least try and do some online research before buying. Generally, the bigger the tent and the more the features, the more ground (and effort) you will need to set it up.
Best Family Tent Australia Reviews
Black wolf has a reputation for quality products and the Turbo Lite 300 range of tents are perfect for camping in Australia. We have used Black Wolf tents for many camping trips and the Black Wolf Turbo Lite 300 Plus has never let us down. The quick pitch design will have you set up in no time.
The Turbo Lite 300 has tape sealed seams where the floor and tent wall meet, and the fly has wider corners to guard against water leakage. There are large windows and screens on both sides and the rear which can be rolled up and secured. The front entry is large and incorporates a screen.
It has a three-pole awning can be turned into an extended living area with optional side and front panels thereby providing an additional fully enclosed space.  
We are happy with our Black Wolf Turbo Lite Plus 300 tent and highly recommend if you are looking for a quality tent designed with the camper in mind and built to last.
Specs and Features in Summary
Weight: 27Kg
Internals: 2 large rooms
Frame: 23 mm aluminium quick pitch
Material: Lightweight Polyester with fly having 2000 mm waterhead rating
External dimensions: 670L x 310W x 210H cm
Packed dimensions: 145L x 34W x 35H cm
Weather protection from the extra-large fly
Reinforcing on the inside of the fly for durability
Click here for the current price, reviews and more information
This Popular Coleman 4 person tent is part of the gold series Instant Up range. With optimal balance between strength and functionality it allows for super quick set-up in under 2 minutes so you can have your camp site up and running in no time.
It has a detachable side awning for extra shelter and a front awning. Together with a heavy-duty Poly-Oxford PVC floor and an internal storage hammock with pockets. Vents at floor level and windows have ultra-fine mesh for ventilation with adjustable screens on the windows. A great choice if you are looking the best tent for family of 4.
It is no wonder Coleman remains a popular choice for camping enthusiasts no matter where they are camping in Australia.       
Specs and Features in Summary
Capacity:  4-person tent
Weight:  15 kg
Pack size:  112L x 24W x 24H cm
External Dimensions:  310L x 245W cm
Flooring:  420D Polyoxford PVC
Poles:  5 x awning poles, pegs and heavy duty carry bag Material: 75D 185T Ripstop Polyester Fly
Click here for the current price, reviews and more information
This conspicuous, yet beautiful 2-person tent from Marmot cannot be mistaken. At just 2.3kg, this family tent is still lightweight enough to be tagged along by any casual camping enthusiasts looking to explore valleys, mountains and everything in between.
It comes with innovative features such as seam-sealing throughout for enhanced waterproof capability, colour-coded poles for intuitive pitching, and a roomy interior along with storage pockets to keep your gear organised.
Specs and Features in Summary
Weight –5lbs 3oz (2360g)
Canopy fabric –40d 100% Polyester
Floor and Tent Fly fabric –68d Polyester
Tent dimensions –44 x 53 x 88in, 109 x 135 x 224cm
Two D Shaped Doors/Two Vestibules
Colour-Coded clips and poles
Footprint Included
Seam Taped Full Coverage Fly
Interior storage pockets
Click here for the current price, reviews and more information
This Black Wolf Mantis Hiking tent is a popular choice for backpackers and hikers looking for a compact lightweight and low-profile tent.
Being low to the ground it will provide secure shelter no matter what the weather conditions. With No-see-um mesh head and foot vents to keep you dry and nylon fly that has a 200mm waterhead rating it is a great choice for those looking for an easy and functional 2-person tent.   
It has 2 doors and the internal has storage pockets for easy access together with room to store important gear you wish to keep close by. Also includes waterproof taped seams on floor.
Specs and Features in Summary
Sleeping: 2-person tent
Entrances: 2 doors and 2 vestibules
External Dimensions:240L x 260W x 100H cm
Sleeping Area: 210L x 140W cm
Ultra-lightweight:  2.1 Kg
Body material: 40D Ripstop Sil-Nylon
Storage: Internal pockets
Warranty:  3 years
Click here for the current price, reviews and more information
This Coleman Gold series 10-person tent must be one of the easiest tents on the market to set up and is popular with beginners looking for an easy to assemble tent or experienced campers.
It has plenty of internal space for anyone needing larger areas including those who are camping in Australia with kids and can be set up in just a few minutes so you can get onto enjoying your time.
With plenty of windows and vents that have ultra-fine mesh for easy air flow that can be adjusted for privacy and warmth it is no wonder it has proved a popular choice for family camping.
The fly has 3000mm waterhead rating and the flooring heavy duty polyoxford PVC. For easy access it has four entrances and the internal includes a room divider. It also has awnings along the side and over the front door.
This spacious and comfortable tent also includes pockets for your gear, access for power cords and a storage hammock.      
Specs and Features in Summary
Package Includes: 5 x awning poles, pegs and a heavy duty carry bag
Sleeping Capacity: 10 or alternatively 4 person and extra living space
Internal space for 3 queen airbeds
Material: 75D 185T Ripstop Polyester Fly
Flooring: 420D Polyoxford PVC
Weight: 30Kg
External Dimensions: 430L x 305W cm
Warranty: 2 years
Click here for the current price, reviews and more information
The easy to assemble Coleman Instant Up 6-person tent is part of the proven Coleman Gold series tents. Although it can sleep 6 it is also popular for smaller families or couples looking for a little extra space to spread out.
It has front awning and detachable side awning. Plenty of vents and adjustable windows with ultra-fine mesh for privacy and heavy-duty Poly-Oxford PVC flooring. The internals include a storage hammock, pockets for extra storage and access for power cords.
The Coleman Gold series are well known for their reliability and ease of assembly so you can be assured you will have your campsite up and running in no time. You can get your camping in Australia adventure up and running quickly with this no fuss tent.   
Specs and Features in Summary
Package Includes: 5 x awning poles, pegs and heavy duty carry bag
Sleep capacity: 6 persons
External Dimensions: 445L x 280W cm
Sleeping Area: 330L x 270W cm
Material: 75D 185T Ripstop Polyester Fly
Flooring: 420D Polyoxford PVC
Weight: 21Kg
Warranty: 2 Years
Click here for the current price, reviews and more information
The Oztent RX-5 is the perfect tent for family camping in Australia and has the added benefit of an extra room for privacy. It has fast assembly and constructed with the ModCan material that is completely waterproof, UV resistant and flame retardant. The tent can also be utilised as one room for sleeping and one as a living room.
With a skylight in the main room that can be zipped open to enjoy the night sky it also has no-see-um mesh on the skylight and windows. Oztent are well known for their reliability and make an excellent choice for those looking for quality with that little extra that is not always available in other tents.
If you love adventure and looking for a tough family tent that can withstand the harshest conditions, then this tent is a top choice for any Australian camping. It has plenty of head height with the tent having 190 cm and the awning 230 cm.
Specs and Features in Summary
Fully UV resistant and waterproof
Sleeping Capacity: Up to 10 people
Material: ModCan Canvas and CPAI-84 Flame Retardant
Frame: Extruded Aluminium
External Dimensions:  460L x 260W cm
Flooring: Heavy Duty Heat Sealed PVC
Weight: Tent 25 Kg and Accessories 10.8 Kg
Warranty: 2 Years
Click here for the current price, reviews and more information
The Darche nebula 1550 canvas swag hybrid tent is built for campers and outdoor adventurers looking for an all-weather, 4-season tent. It's a robust tent designed to accommodate 1 or 2 people. This model combines the durability of a canvas swag and the comfort of a regular tent to offer a hybrid shelter.
Setting up the Nebula 1550 requires less than 5 minutes and comes with a fitted mattress for enhanced comfort. In colder winter months, you can enjoy fully enclosed and warm sleeping environment and insect-free panoramic views during warm summer nights. The single-skin canvas design also means that you get the maximum inner space possible.
Specs and Features in Summary
Capacity –up to 2 people
Weight –22kg
Dimensions: 2300mm L, 1550mm W, 1000mm H 
Canopy –Single skin poly/cotton rip-stop canvas
4-season with 360° panoramic views
Fully seam-sealed
50mm hi-density foam mattress
Excellent cross-ventilation
2 storage pockets Anodised alloy poles
Click here for the current price, reviews and more information
The Aria Elite 2 is a spacious and reliable tent than can be set up in under 10 minutes.
It has 2 rooms with a sewn-in dividing wall separating the bedroom to the living area. With plenty of extra space it can sleep up to 8 people. Alternatively, it is ideal for smaller groups as it has the advantage of internal separate areas.
The tent is made of breathable polyester to minimise condensation and the large windows and doors allow easy access with plenty of flow through ventilation. The windows have mesh and privacy screens and can be adjusted depending on the level of ventilation required.
The tent comes with and an EziPak carry bag with compression straps for easy packing and includes a removable hanging divider in the rear room. This spacious and well-designed tent would suit anyone looking for a top-quality tent and would be a perfect edition to any Australian camping holiday.
Specs and Features in Summary
3 pole front awning for shade
Sleeping Capacity: 8 Persons
No-See-Um mesh on doors and windows
External Dimensions: 500L x 300W cm
Material: 100D HiCount 130gsm Polyester
Flooring:  175gsm Polyethylene (PE)
Weight: 31.1 Kg
Warranty: 3 Years
Click here for the current price, reviews and more information
Other things to consider for your family tent
Other than the size, weight, and material, make sure you choose a tent that has good ventilation, made using breathable material, and has double walls in case of a rainy season. If your tent floor is likely to receive heavy foot traffic, you should consider getting a strong footprint, which will also act as a barrier between you and the ground. You may also need to consider purchasing a roll up mattress for added comfort and a good quality sleeping bag.
How many doors do you want on your tent? Family tents that have more than one door are more convenient because you can be able to exit and enter without having to climb over other people.
But more doors may mean more cost and more weight, so keep that in mind. Also, if you can get models with interior storage, they will be useful in storing convenient items like gloves, lip balm, sunscreen, keys, and headlamps.
The bottom line when choosing the best family tent
Our home state of Queensland has many popular camping grounds and is an economical way to travel throughout this vast state. We have over the years had many enjoyable camping holidays and packing a good quality tent can make all the difference. You may also be interested in our list of tent camping equipment that we take when camping in Australia.
Therefore, I hope this guide makes it easier for you to find the best family tent you are looking for at your price. This might sound like a lot of features to keep up with, but once you spell out your needs and preferences, with a little research, everything else will fall into place.
You may also be interested in our reviews of popular camping fridges here.
Also, you are welcome to join our Queensland Travel Planning Facebook Group. It is an active group with a wealth of information on travel in Queensland and we welcome new members.
Disclaimer: As an Amazon Associate I earn from qualifying purchases.
PIN THIS TO YOUR TRAVEL PINTEREST BOARDS ↓