It's easy to see why Treasurer Tim Pallas has described this – his ninth budget – as the most difficult he has had to deliver.
Faced with a sea of red, the government has taken the decision to slug landlords and employers with higher taxes and axe up to 4000 public servant jobs in an effort to pay off its soaring debt bill, much of which was racked up during COVID-19 lockdowns.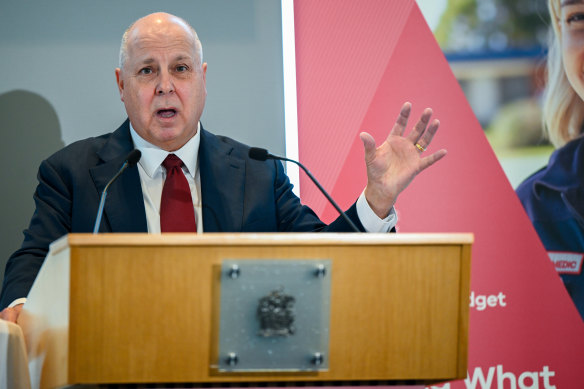 Handing down the budget, Pallas was at pains to explain away the debt pain as simply the cost of keeping Victorians safe, making a distinction from debt accumulated before COVID-19, which he said was done to build, invest and grow the state.
With the Reserve Bank on the nose, the government is pointing the finger at its governor, Philip Lowe, who encouraged states to borrow cash to prevent "economic scarring" and long-term unemployment.
It's also being pitched as the time for those that did well in the pandemic years – landlords and big businesses – to chip in and help the government pay the bills.
Loading
Politically, it is a smart strategy, as most Australians can relate to the impact rising interest rates are having on their own household budgets. It also plays into a bit of old-fashioned class warfare, with Pallas telling parliament "it's only fair that those that did well contribute to the repayment effort".
Having identified some "villains" to whack with tax hikes, the government hopes those impacted will simply pay their new tax bill and get on with it – with a little whinge on the way through.