Fortin has alleged he is the victim of "a biased and partial police investigation."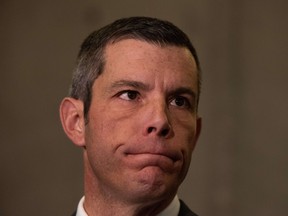 Article content
The country's military police watchdog has launched an investigation into how the case of a general accused of sexual assault was handled.
Article content
The Military Police Complaints Commission (MPCC) is undertaking what it calls a public interest investigation after receiving a complaint from Maj.-Gen. Dany Fortin.
Fortin was charged with one count of sexual assault on Aug. 18, 2021. He was acquitted Dec. 5, 2022, by Quebec judge Richard Meredith, who ruled that he was not convinced beyond a reasonable doubt that Fortin was the assailant who sexually assaulted a member of the military in 1988.
Fortin has alleged he is the victim of "a biased and partial police investigation," noted MPCC chairperson Tammy Tremblay in a letter to Defence Minister Anita Anand about her decision to investigate. "He further states that he was charged on the basis of insufficient evidence and that his prosecution was the result of undue pressure to believe the alleged victim and to accept her allegations at face value, to the complainant's detriment."
Article content
The MPCC is a civilian, quasi-judicial oversight agency that reviews and investigates complaints concerning military police conduct as well as allegations of interference in military police investigations. It reports its findings and makes recommendations directly to the military police and defence leadership.
Fortin filed his complaint with the MPCC on Jan. 17. Eight days later the watchdog requested the Office of Professional Standards of the Canadian Forces Provost Marshal provide it with a copy of the investigation into the sexual assault allegation against Fortin. That investigation was done by the Canadian Forces National Investigation Service or CFNIS.
But instead, on March 31, the MPCC was only provided with a summary of the police investigation. "The MPCC has not received disclosure of the complete investigation file in question at the time of writing this decision letter, despite its follow-up efforts," Tremblay noted in her decision.
Article content
Among the factors considered in the decision to launch an investigation into Fortin's complaint was the seriousness of the alleged conduct, the systemic issues raised in Fortin's complaint, and the involvement of senior officials or military officers.
"The involvement of senior officials or military officers in a complaint can lead to concerns that a matter will be handled differently on that account, particularly in rank-conscious institutions like the military," Tremblay wrote to Anand and other senior defence officials.
She also noted that Fortin recently filed a statement of claim in the Ontario Superior Court of Justice naming several senior officials and military officers, including the Canadian Forces Provost Marshal, as defendants.
Article content
"Given these considerations, I consider it advisable in the public interest that the MPCC initiate an immediate investigation of this conduct complaint, rather than transfer it to the Canadian Forces Provost Marshal to be dealt with in the first instance," Tremblay wrote.
The statement of claim from Fortin in the Superior Court of Ontario alleged that shoddy police work and political interference not only damaged his reputation, but also led to a sexual assault charge that had no basis in fact. Fortin is seeking $5 million in general damages and $1 million in punitive damages, according to the statement of claim.
Among those being sued are Prime Minister Justin Trudeau, defence chief Gen. Wayne Eyre, former defence minister Harjit Sajjan, former health minister Patty Hajdu, former defence deputy minister Jody Thomas, Janice Charette, the clerk of the Privy Council, and several political aides. The lawsuit also names Canadian Forces Provost Marshall Brig. Gen. Simon Trudeau, members of the CFNIS, some of Eyre's staff and advisors as well as other generals.
Article content
None of the allegations have been tested in court.
The statement of claim noted that, until May 2021, Fortin had a stellar military career and reputation. That career, however, was derailed when the Canadian Forces announced he was being investigated on an allegation of sexual misconduct dating back more than 30 years. Fortin was also removed from his job as senior military commander leading Canada's COVID-19 vaccine rollout.
In the statement of claim, Fortin's legal team alleges that, at the behest of Gen. Eyre as well as "political actors," the investigation was "rushed, flawed and did not follow the usual or ordinary course of a CFNIS investigation."
National Defence noted it was reviewing the statement of claim and would not be providing comment.
David Pugliese is an award-winning journalist covering Canadian Forces and military issues in Canada. To support his work, including exclusive content for subscribers only, sign up here: ottawacitizen.com/subscribe