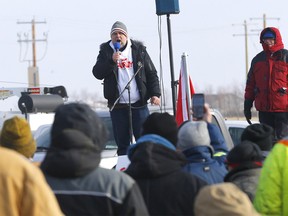 Article content
Last week was an eventful one on the campaign trail between new policy announcements and, of course, the leaders' debate.
Article content
In a way, it made everything else seem moot. We can disagree on who won the debate or on the merits of certain policy ideas, but we should all be able to agree on the importance of ethics, integrity and the independence of our judicial system. A finding that the head of government took actions that violated the law should concern all Albertans, regardless of political stripe.
As Danielle Smith herself said in 2019 of Justin Trudeau and the finding that he violated the federal Conflict of Interest Act, "when they drafted the law in 2006, lawmakers assumed that being found guilty of a violation … would be so egregious, that the offender would face serious political fallout or even be forced to resign. So much for that. The problem is, without consequences, you can be sure it will happen again."
Perhaps this is another of her past statements that we should not take at face value as she is clearly now of the opinion that the absence of consequences is perfectly acceptable. But it isn't, just as it wasn't then.
Article content
The irony of Smith's previous musings on Trudeau and the SNC-Lavalin affair is that illustrates an awareness on her part of the inappropriateness of the head of government interfering in the judicial system and putting pressure on an attorney general to engineer a certain outcome. That did not escape the notice of Alberta's ethics commissioner.
In the case of her phone call with Art Pawlowski and her subsequent phone call with Justice Minister Tyler Shandro, Smith had not only awareness of the SNC-Lavalin affair, but awareness about Shandro's own position and the briefings from his department on the matter of prosecutorial independence. Yet, she continued to express her desire that Shandro make Pawlowski's case go away.
It is to Shandro's credit that he resisted. Especially since, as Trussler points out, the premier is the only one who can exert influence over the attorney general and the only one who has the power to remove him from that position. And when it comes to seeking to influence the outcome of a case, "the attempt does not have to be successful." Just imagine if it had been.
Article content
Trussler is correct to observe that "it is a threat to democracy to interfere with the administration of Justice" and that "this independence is a cornerstone of any democratic society." That's why this matters. That's why we can't just shrug and move on.
But what does that mean? No one is arguing that Smith should be marched off to prison. The ethics commissioner didn't recommend any sanction but reserved the right to make such a recommendation at a later date.
Albertans have an opportunity to impose their own consequence in less than a week. Does this justify the defeat of a political party? Should conservative voters impose an indirect punishment on themselves by acceding to four years of governing by a party whose policies they reject? I can understand that this might seem like a harsh or dramatic punishment to some, but would we prefer no consequences at all?
Smith and other conservatives were absolutely right to condemn inappropriate actions of the prime minister and to lament the lack of consequences in his case. It's rather cynical and hypocritical to trade that outrage for a convenient mulligan.
Smith was also correct on a more narrow point: if politicians can get away with violating conflict of interest laws, what is there to stop them from doing it again?
"Afternoons with Rob Breakenridge" airs weekdays 12:30-3 p.m. on QR Calgary and 2 – 3 p.m. on 630CHED   rob.breakenridge@corusent.com  Twitter: @RobBreakenridge