From a top pasta spot in Sydney to trulli houses in Puglia, Vivid's festival director has a passion for dining on fine food while travelling to exotic locations.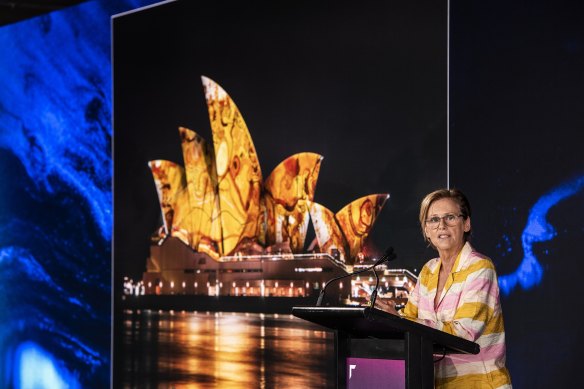 It's no accident that Gill Minervini has put food at the top of the agenda for the Vivid Sydney festival in her second year as its director; she was, after all, behind the birth of Dark Mofo's first Winter Feast.
"I pitched Vivid Food when I first went for the job a few years ago, and it's a way I can pay homage to the city I love with food culture at the forefront," Minervini says. "I was fortunate they loved the idea."
In a coup for the event, Minervini secured three-Michelin star chef and Eleven Madison Park owner Daniel Humm to cook at Matt Moran's Aria, and has also locked in The White Lotus actress Jennifer Coolidge to attend. Minervini hopes the famous vegan actress might take up a spot at Humm's pop-up, given his plant-based dining menu is the hottest ticket around. "That would be a dinner match made in heaven," she beams.
Minervini was born in Adelaide, spent time at her parents' Adelaide pub, The Park View, and later the pub in the outback South Australian town of Keith in her youth. She moved to Sydney in 1987 and admits her paternal heritage inspired her love of classic Italian dishes. "My grandfather Sergio was a baker; I feel I channel him when I make pizza dough at home," she says.
Eating in
Signature dish and your go-to at home
I am half Italian, so most of my cooking is very influenced by that. I am known for my eggplant parmigiana. I have been a vegetarian for 10 years, and this is one of Mum's famous recipes. She was a great cook. I also like to make home-made pizza. I have a pizza oven and love experimenting with pizza dough. My favourite pizza topping is potato and gorgonzola with rosemary. My mother learnt to cook from my paternal grandfather, Sergio. My parents [Yvonne and Maurice] were publicans and Mum ended up cooking 350 counter meals in a session for lunch. She taught my brother to cook, and until recently he owned a restaurant in Hobart.
My guilty pleasure
I can't narrow it down to one; Messina gelati and Red Rock potato chips. I was brought up in a pub, so after school every day it was a can of Coca-Cola and a bag of chips. My parents would be chastised for that now, but I worked out OK [laughs]. I was born in Adelaide, so Haigh's chocolate is another guilty pleasure.
Best kitchen wisdom I cling to
The best advice is that simple is best. Don't overcomplicate it. Keep meals simple and fresh and you can't go wrong.
Eating out
My favourite hometown restaurant (and go-to dish)
Before I took the Vivid Sydney role, I used to go to Adelaide a lot, working on the Adelaide Festival and would often eat at Peel Street. It is hands-down amazing. For a vegetarian, it's a great spot, and while it's not exclusively vego, the choices are plentiful. They make an incredible salad that's a meal in itself. It's filled with burrata or falafel and they hero figs when they're in season. It's almost like an understatement to call it a salad.
What is your favourite place to eat in Australia, and any special food memories here you have?
For all the ingredients (food, location and ambience), I can't go past Bennelong in Sydney. When I first came to Sydney in 1985, I remember sitting on the Opera House steps and thinking I am going to come back and live here one day. I had this real affinity with that area, and it's a full circle to now be directing Vivid. If I was going to go fancy, I'd eat here. I love the architecture. When I got the director's job at Vivid Sydney, we went to celebrate, and it's a special place; one of the most beautiful-looking restaurants in the world. I ate a pasta dish with fresh tomato and it was delicious.
Favourite Sydney locals
I live in Erskineville and a new local favourite is Casa Mia Osteria. I think it has some of the best Italian food I have ever had in Australia. The menu is very authentic and both northern and southern Italian dishes can be found. They do Roman pizzas and the potato gnocchi with porcini, hazelnut and parmesan … well, I would crawl over glass for it! I also love Bloodwood in Newtown. It's an institution, been there for more than 10 years. It's a very mixed menu, but a lot of fantastic vegetarian dishes. I also love Chinese dumplings, so visiting hole-in-the-wall Din Tai Fung is a must. They are a Taiwanese chain and they're so good. The bakery Renaissance at The Rocks has the best croissants in Sydney. We also love to visit vegan restaurant Yellow in Potts Point. It was where my partner Caroline and I recently celebrated our 17th anniversary.
On the road
Your favourite food city
I love to visit Rome and remember eating a great meal at Pizzarium Bonci near the Vatican. It's a hole in the wall selling pizza by the slice. This place revolutionised pizza toppings for me, zucchini flower in particular. Also try Come Il Latte for gelato – ricotta, cinnamon and chocolate, plus the fig flavour. I also recommend you try crescia, a traditional Easter bread I ate there six years ago while on a visit. It's an Italian bread from Umbria filled with gooey cheese, such as pecorino and parmigiana. Yum.
I also love New York and always eat at Zabar's deli. I've bought so many alimentari items here. I had a great picnic in Central Park – highly recommend the bread, bagels and olives.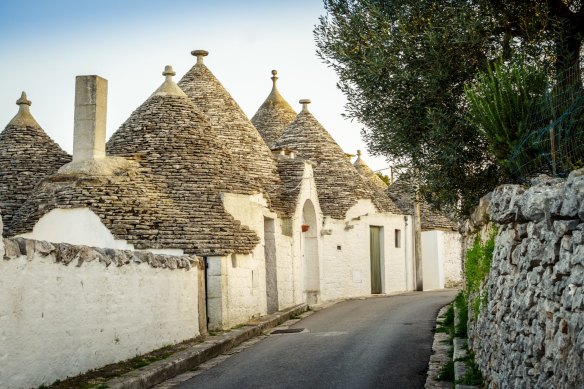 Where do you stay when you're there and why?
I always stay at Airbnbs when we travel. We had a memorable stay when in Puglia, where my dad's family is from. We booked our accommodation in a trulli house, made of dry stone, with its iconic conical roof. You get such an amazing authentic experience when you do travel this way, and it's always a preference for me.

Jane Rocca is a regular contributor to Sunday Life Magazine, Executive Style, The Age EG, columnist and features writer at Domain Review, Domain Living's Personal Space page. She is a published author of four books.