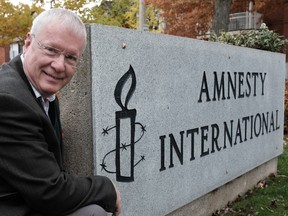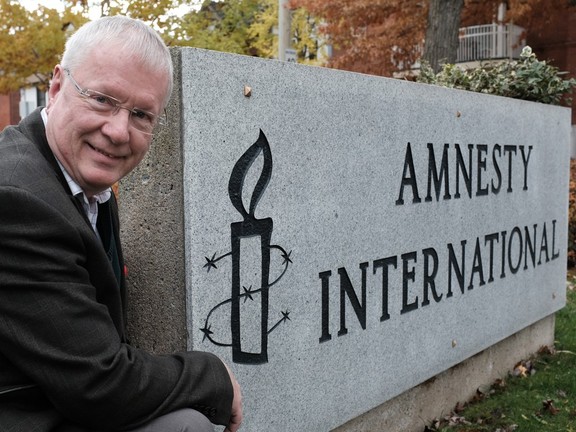 Article content
During much, if not all, of the 40-plus years that William Bryant worked for Amnesty International in Ottawa, he put tremendous effort into organizing a monthly celebration for co-workers to mark their birthdays.
Article content
They were known as Cake Days, because Bryant had catalogued not only everyone's birthdays but also their favourite desserts. Once a month, Bryant would ensure that all the celebrants were present and feted with exactly the cake or pie that they most craved.
"If you had a sweet tooth, it was a glorious occasion," recalls Alex Neve, who was secretary general of Amnesty International Canada's English branch for two decades.
Fantastic baked goods aside, Bryant's self-funded actions manifested, month after month, the enormous generosity and feeling of fellowship that were vital parts of his life, Neve says.
"Cake Day was a way of saying to all us that everyone matters, everyone's special, everyone deserves to be celebrated and that it was very important to do together," recalls Neve. "Everyone left Cake Day feeling better about themselves, feeling lifted up by being together.
Article content
"Amnesty was all about people helping people, standing together with other people," says Neve. "That's how he lived his life. He was always looking for gestures small and large to make a difference in the lives of those who were very near and dear to him."
Neve and members of the Amnesty International community in Canada have been reeling this month because Bryant, 74, was fatally stabbed May 9 in an east-end Ottawa apartment complex. Ahmed Ismail, 43, was arrested near the crime scene, an apartment complex at 2750 Carousel Cres. in the Emerald Woods neighbourhood, and charged with second-degree murder.
Says Neve, who was also one of three commissioners for the Ottawa People's Commission on the Convoy Occupation: "The news of anyone being murdered is impossible to process, but I think there's something even more discordant here.
Article content
"We're talking about a man whose every word, every gesture, every moment of how he lived his life, was all about compassion, concern and thoughtfulness, a man who just would not in any way have crossed paths with violence," says Neve.
"For his end to come so cruelly and violently, it's just impossible to fathom."
Bryant, whom friends and co-workers called Will, was raised in Hamilton and attended McMaster University before he moved to Ottawa. A 2018 Amnesty International article that profiled veteran activists around the world said Bryant came from a family of social justice activists and joined the non-profit human rights organization in 1973, shortly after its Canadian branch was formed.
"I hate injustice with a passion!" Bryant says in the article. "I was energized by the idea that individuals could speak directly to governments and demand justice, demand change.
Article content
"In my lifetime I want to see human rights respected everywhere. I've witnessed peace come to Northern Ireland, and respect for human rights restored in Chile. Now I want to see human rights respected in places like China and Myanmar, and an end to the backsliding on human rights in the U.S. I want to see a world that's more welcoming to refugees."
Neve recalls meeting Bryant in 1985, when, as a Dalhousie University law student, he was visiting Ottawa for a friend's wedding. Neve says he was curious about Amnesty International and met Bryant in the organization's office.
Neve recalls that Bryant, then and later, was incredibly personable.
"You always had the sense that he could have and would have made all the time in the world to be with you… you were the only thing that mattered in the moment."
Article content
Thanks to Bryant, Neve left with a pile of pamphlets, books and T-shirts to take back to Halifax. "I was absolutely convinced I was going to be on the right path," says Neve, who was secretary general of Amnesty International Canada's English branch from 2000 to 2020.
Bryant "was such a good man, and he needs to be remembered that way," says Bonnie Harnden, who worked at Amnesty International from 1987 to 2014.
Over the years, Bryant held various positions in the Amnesty International office, helping with administration and fundraising. In the Amnesty International community, Bryant was renowned for being the first point of contact for a legion of members and for attending every annual general meeting.
"He was the longest serving staff person in Canada," says Neve.
Article content
Outside of his work, Bryant, a gay man, was very gregarious but also very private, Harnden says. Bryant loved opera and he played piano and organ at Alta Vista Baptist Church, where he was a member.
Harnden says Bryant was outgoing and enjoyed "every festival that was going on… He was the best person to talk to if you wanted to know what to do in Ottawa."
Since 2018, Bryant had been a volunteer for Capital Rainbow Refuge, a non-profit organization founded in 2010 to sponsor and support LGBTQI+ refugees.
"When he heard about Capital Rainbow Refuge, he just jumped in with both feet," says Lisa Hébert, the organization's board chair. "He really blossomed in this role and valued the opportunity to be able to give back."
Bryant was a former Capital Rainbow Refuge board member, a volunteer and a committee member, and he was involved with two sponsorships, Hébert says. "He had such a kind way of communicating that helped bring difficult issues to fruition. He always did things with a smile," she said.
Article content
Hébert says the person accused of killing Bryant has no connection to her organization. She also says Bryant did not live in the apartment building where he was killed.
Bryant is survived by two brothers, their children and their children's children. "He touched every relative with his gentleness and kindness," says the death notice submitted by the family.
A funeral service is to be held at Capital Funeral Home and Cemetery, 3700 Prince of Wales Dr., on May 25 at 2 p.m. The family has requested no flowers, but instead donations to charities or organizations standing for "equal rights of all people, everywhere."