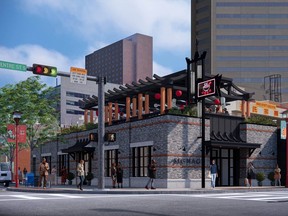 Article content
During his studies at the University of Calgary, Jim Mitchell took a position with Colliers to learn as much as he could about commercial real estate. He enjoyed it and did very well, so when the time came for a career start, he declined a position with the firm and boldly started his own.
Article content
Leaseco was launched in 1986 and good fortune led him to become associated with Ron Ghitter. It's a relationship that has certainly prospered, as in 1994 Ghitter and Mitchell formed Certus Development and developed Northland Plaza, which is still in the Certus portfolio and has always been fully leased.
Article content
Today, the Certus real estate portfolio of retail and office buildings remains more than 99 per cent fully leased and plans are well underway for a number of new developments.
Joel Tiedemann was recently added to the staff as director of development, and one of his responsibilities will be to usher through a development permit for a new building in Marda Loop.
Tiedemann began his real estate career with Brookfield Residential and most recently was senior development manager for Minto Group.
Marda Loop is a pedestrian mecca for shoppers, blessed with a number of good eateries and services. The Certus development is to be built on one if its highest traffic corners at 34th Avenue and 22nd Street across from the popular Cobs Bread Bakery and Village Ice Cream. The attractive two-storey, brick-faced structure will provide 4,500 square feet of retail at street level and services on the second floor, leased through Leaseco.
Article content
Certus has purpose built in many areas of the city with a view to having a positive effect on surrounding neighbourhoods. A good example is the mixed-use Spider Block building on 14th Street S.W., where it relocated its office from the building it still owns on 10th Avenue S.W. at the corner of 8th Street.
Our Daily Brett Market & Café has been a real attraction to boost people presence on that part of 14th Street, and Certus has since purchased three properties across 29th Avenue that it plans to renovate and modernize.
An under-construction property in Chinatown will no doubt have a beneficial effect on Centre Street. Long a favourite eatery on the corner of 3rd Avenue, Harbour City is undergoing a dramatic change of face.
Mitchell got the inspiration for the design from his visit to the impressive, world class Xintiandi Shopping Centre in Shanghai. When the hoarding comes down it will reveal a striking grey/black brick-patterned façade that has been extended for additional height, and a new rooftop patio designed in an Oriental style.
As with the majority of Certus projects, the design, development, planning and leasing is all handled in-house and construction is in the hands of David Pidgeon and David Lam of Meiga Development.
Article content
One of the busiest street corners in the city, the new development will do much to enhance the cultural atmosphere of Chinatown and encourage new investment in the community.
Repurposing older buildings has been a focus of Certus — examples are the Bannerman Block in the 2300 block of 4th Street S.W., given new life while retaining its 1911 red-brick historic character. On Centre Street N., Certus also performed its magic on the Tigerstedt Block and kept the iconic neon sign remembering Albert Tigerstedt, who opened his photographic studio in the building in 1952.
Certus owns six properties on Centre Street, including two full blocks and six corners.
Certus has owned the building on the northeast corner of Macleod Trail and 58th Avenue for many years, and recently added a second storey to accommodate Honjin Izakaya, a Japanese restaurant with a very popular Tokyo Street Market.
The latest and biggest project for Certus, in partnership with Northland Properties, is a huge development in Sage Hill that will include 309 residences and a large retail component.
Notes:
Article content
On June 2, 2022, Siksika Nation Chief Ouray Crowfoot and Prime Minister Justin Trudeau signed a historic land claim agreement. To commemorate the event, Crowfoot commissioned four large paintings by Calgary artist Paul Van Ginkel, two for the Nation and two for himself. Iinisstsiisin (Sacred Agreement, Pipe Gifting) was delivered to Crowfoot's Calgary office, and a 10-by-6-foot painting will be unveiled at Siksika on May 27.
David Parker appears regularly in the Herald. Read his columns online at calgaryherald.com/business. He can be reached at 403-830-4622 or by email at info@davidparker.ca