Debate in the House of Representatives has now moved onto the Constitutional Alteration Bill, which is the landmark piece of legislation that will authorise the Voice referendum.
There are around 70 speakers from across the parliament, including the crossbench, who will speak on the bill.
The debate is expected to dominate the entire sitting week, before moving to the amendments debate, which may not start until next week.
Opposition Leader Peter Dutton has kicked off the speaker's list with a blistering denunciation of the Voice, saying the upcoming referendum is "one of the most important decisions Australians will make in their lifetime".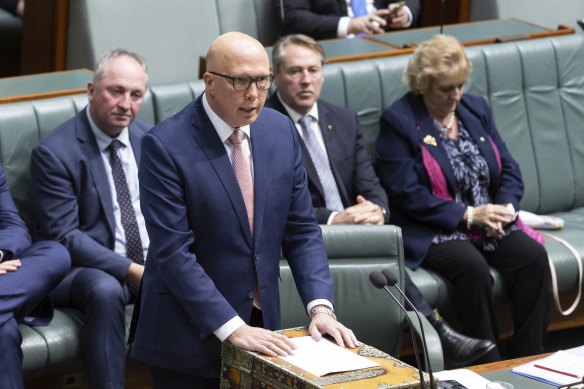 "Because if Australians vote for change then our nation, our democracy, and their lives will be fundamentally altered. And in this case, not for the better. Changing our Constitution to enshrine a Voice will take our country backwards not forwards. The voice is regressive, not progressive," Dutton said.
"And it should be very clear to Australians by now that the prime minister is dividing our country, not uniting us".
Dutton attacked the committee's inquiry into the bill as a "kangaroo court led by a government that never wanted to entertain changes to its proposed bill", saying past referendums had been preceded by constitutional conventions where advocates and opponents came to "thrash out the proposal and examine the pros and cons".
"What's most curious about this referendum is the government prefers Australians to be incurious. When Australians have raised reasonable and legitimate concerns about the Voice model, the government dismisses them as a scare campaign, as nonsense, as noise and misinformation," Dutton said.
Dutton said the fact the Voice would be inserted into the Constitution via a new chapter "should set off alarm bells in the mind of every Australian", describing it as the "most radical and consequential change to the way our democracy operates in our nation's history".
"If Australians have buyer's remorse the Voice comes with a no-return policy. It's here to stay in it. This institution hasn't even been road tested."
He said the referendum would "undermine our quality of citizenship" and embed new procedural rights that are "conferred only on the Aboriginal and Torres Strait Islander Voice".
"It will have an Orwellian effect where all Australians are equal, but some Australians are more equal than others."
The opposition leader also tapped into the long-running debate around the Voice's capacity to advise executive government, which includes ministers and the public service, claiming the Voice could "grind our system to a halt from the resulting years of litigation".
Dutton finished by saying while the Coalition opposed the bill it would not stand in the way of its passage, therefore allowing the referendum to proceed and the Australian people to have their say.