'People here are just so understanding, they offer you juice and sandwiches the moment you walk in the door,' says resident Connor Dufresne.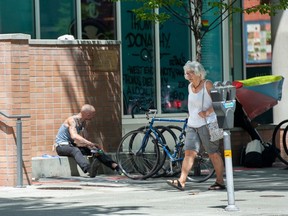 Article content
Vancouver's Connor Dufresne gingerly swept the sidewalk in front of the Thomus Donaghy overdose prevention site Saturday morning.
Article content
"I was off fentanyl for three months but I relapsed yesterday," he said. "It was my fault, I was upset I got kicked out of my halfway house. I'm gonna try again to get clean."
Article content
For the 27-year-old homeless resident, returning to the Yaletown site — where Vancouver Coastal Health staff provide him with harm reduction supplies, including supervised drug consumption, testing and medicine in case of an overdose — feels like coming home.
"People here are just so understanding, they offer you juice and sandwiches the moment you walk in the door," Dufresne said.
"I'm cleaning this area up because I love it here. The last thing I want to do is for anyone to have reason to try and shut it down."
But the developer of a condominium tower nearby, the Wall Financial Group, is trying to do just that.
Article content
Bruno Wall has launched a B.C. Supreme Court lawsuit, alleging that its current use contravenes a municipal zoning bylaw and has caused a host of problems for his nearby tenants at Seymour Residences.
"Use of the city site as an OPS is not a use authorized by Bylaw No. 10996," claims Wall.
The owner is asking the court to rule on council's decision to lease 1101 Seymour Street to Coastal Health for the overdose prevention site. Wall argues council "fundamentally changed the character of what was otherwise a relatively quiet, predominantly residential street."
Now, he says the southwest corner of Helmcken and Seymour streets is a "centrepoint for crime and public disorder" since the OPS opened in March 2021.
"There was an immediate surge in issues at Seymour Residences, including incidents of people loitering or passing out along the block and in the entryway, of people attempting to gain access to the courtyard and the parkade, and of attempted and successful break-ins and theft," said Wall in his affidavit filed with the petition.
Article content
The petition includes hundreds of pages of photo submissions of the alleged effects the site has had on the neighbourhood. Images show people camped out amid belongings, injecting themselves in the open, urinating on the sidewalk, plus litter in front of the building.
The city has since responded to area residents' concerns with enhanced measures to address debris on sidewalks, bylaw infractions and public safety concerns.
Shaune Shypanski, who lives in a social housing building across the street, said she steers clear of the block.
"It's hard — as a recovering methamphetamine addict who is trying to kick the habit — when I walk past the site I get cravings."
Dennis Pettigraw, another tenant of 540 Helmcken St., says he is torn about the OPS location.
Article content
"It's dangerous — I've been jumped and robbed here seven times," the 70-year-old said. "But there's no doubt that this place saves lives. No one else will want it in their neighbourhood."
The lease for VCH to operate the OPS at the space is set to expire in spring 2024.
– With files from Susan Lazaruk
---
Spring subscription sale: Our in-depth journalism is possible thanks to the support of our subscribers. For a limited time, you can get full online access to the Vancouver Sun and The Province, along with the National Post and 13 other Canadian news sites, for just $40 for one year or $1 a week for 52 weeks. Support our journalism by subscribing today: The Vancouver Sun.