Australian captain and fellow paceman Pat Cummins made it clear the Australians weren't going to be bullied by England into changing their game plan.
"They've had some successes when it's worked for them [but] I think we've got a pretty good team here, and I think there's so much that we do well," Cummins said. "I wouldn't want to lose sight of how we play and what makes us really strong.
"You're always wary of the opposition, and you do a bit of recon on them. But I'm very big on making sure that we're going to play the way we want to play and even though the opposition might change, we'll play to our strongest suits."
And while England have a new coach and captain since the previous Ashes series in Australia two summers ago, Cummins pointed out that their opponents were basically the same team that were flogged 4-0.
"These guys we've played a lot over in England and back here in Australia in recent years, so I feel like we match up pretty well with them," said Cummins.
Record-breaking spinner Nathan Lyon was unconcerned about England's batsmen trying to take him down on the smaller English grounds.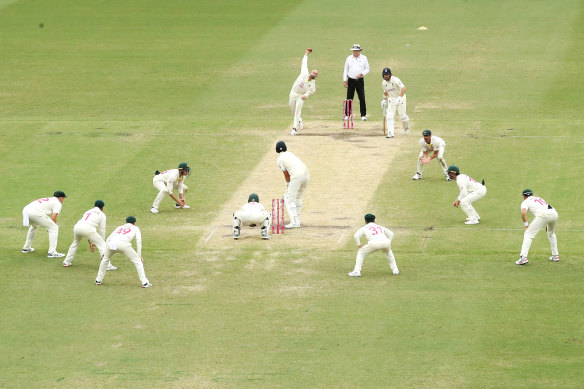 "I've planned for that and I'm excited by that challenge. I want to challenge myself against the best players, and this brand of cricket they're playing is certainly bringing the crowds back. It's exciting," Lyon said.
"I've been hit for six, it must be getting close to 300 [times] now for me. I'm not worried by it at all, I'm not scared by it. It provides a chance [of wickets] in my eyes."
Lyon, Pat Cummins and Josh Hazlewood all went at 2.75 runs an over or less during the 2-2 series draw four years ago, compared to the 4.76 runs per over England have scored under McCullum and Stokes. England have hit more than seven sixes per Test on average while under Cummins, Australia have hit half that many (3.4 per Test).
Reserve seamer Scott Boland, who claimed extraordinary second-innings figures of 6-7 at the MCG 17 months ago, has similar sentiments to Starc.
"They've said they're going to be brave and take the game on. We'll see how it goes," Boland said. "If they're 4-30 and Cummins is steaming in and ripping their poles out, it will be interesting to see how they play."