Article content
The city says it's getting close to approving a solution for slope stability concerns on McHugh Bluff that have resulted in a pathway closure for more than a year.
Article content
The pathway closure affects a section along the slope between 5A Street and 6 Street N.W.
Article content
Heavy rains in August of 2021 caused some of the slope to give way, raising concerns about the safety of the pathway for users as well as homes above the eroded area.
The pathway was closed for at least 15 months in June of last year. Two homes above the erosion were temporarily evacuated that same month after more heavy rains, but those residents were able to return after just a few days.
The city says there are currently no concerns about the safety of the homes. The slope has been monitored since the problem was first identified in 2021.
Jason Lin, senior structural engineer with the City of Calgary, said it has provided short term erosion mitigation by putting down coir matting, which is a fibrous material.
"That matting is essentially just something that is placed on the slope itself, and what it does is helps with mitigating erosion of the dirt," he said. "It's just kind of helps to secure that very superficial type of stabilization work."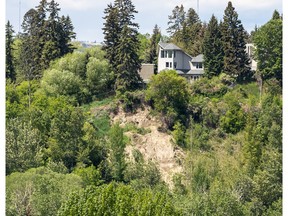 The city has a remediation design that is now in the final approval stage. There will be two phases to construction work, with the first phase targeting the upper slope, and the second phase targeting the lower slope.
Article content
"We would be anticipating both (phases) to be done this year," said Lin.
He said the stabilization plan includes soil nails, sheet drain, horizontal slope drains and high-strength wire mesh. Lin described a solution that will look mostly natural.
"A lot of the vegetation will be crawling around and in between the spaces and the soil nails. So (I'm) hoping that not a lot of the soils would be visible once things start to grow over and on top."
One other material the city will be using to shore up the bank is shotcrete — which is concrete that's sprayed onto a surface. Lin said he hopes to give that a coloured finish so it blends in.
"Grey, that would stick out. It would be more like the brownish colour to kind of blend in with the area," he said.
Lin said he and his team are grateful to local residents for being mindful of the pathway closures and having patience as they work toward a solution.
brthomas@postmedia.com
Twitter: @brodie_thomas