"It sounds terrible, but it's not as terrible as it could be."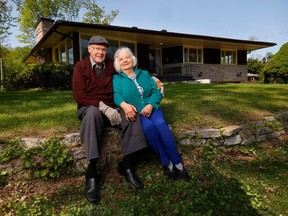 Article content
On the afternoon of May 21 last year, a storm rioted from Southern Ontario into Quebec.
Article content
Meteorologists refer to a fast-moving severe thunderstorm as a derecho. This derecho brought torrential rains and winds clocked at over 100 km/h. It splintered forests and pummelled communities in its line of attack, including Pineglen, a west-end Ottawa neighbourhood known for its towering white pines.
Hilary Faris, who has lived in her Pineglen bungalow for 40 years, recalls rain coming down so hard that she couldn't see out the window. Hilary, her husband, Dale, and visiting daughter and granddaughter hurried into the basement, helping Dale with his walker.
"A few minutes later, everything looked fine, so we went back upstairs," Hilary recalled. "There was a huge branch sitting on my kitchen counter."
Article content
The "unintentional skylight" created by a falling tree was just the start of a long journey for Hilary and Dale Faris and thousands of others caught in the path of the mighty wind.
The fierce winds tore branches off some trees and toppled others. More than 180,000 Hydro Ottawa customers lost power and it was June 5, 2022, before power was restored to everyone.
For the past year, the Faris' lives have been turned upside down. Most of their roof needed to be replaced, much of the ground floor had to be taken down to the studs and there were cracks in the foundation. Their only power came from a generator.
Hilary and Dale moved into a hotel in Barrhaven 10 days after the storm and haven't been able to move back yet. The contractor provided by their insurance company advised them not to rent a house or apartment because they would have had to sign a year-long lease and would have been on the hook for rent even after their house was ready.
Article content
It turned out to be bad advice, said son Duane Faris. Hilary, who loves Christmas, was told she would be back in her home to host the annual family gathering. With only a microwave in the hotel room, she missed cooking.
It didn't happen. Five move-in dates have been given, but those dates have all come and gone and the Farises are still at the hotel.
The first contractor left and a second one took over. It was almost winter before the power was back on. Disasters start to pile up. The main floor of the house had to be emptied, with some belongings going to storage and others stored in the basement. The basement flooded during this April's ice storm. It still needs to be repaired.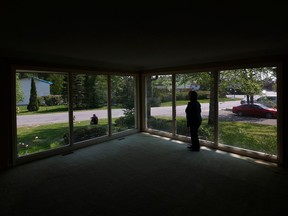 Insured catastrophic losses in Canada added up to $3.1 billion last year. Of that, $1 billion was derecho damage, according to the Insurance Bureau of Canada, which counts the May 2022 derecho as the sixth-most costly catastrophic weather event in Canadian history.
Article content
According to claim-count data from Catastrophe Indices and Quantification Inc., over 70 per of claims were completed at the six-month mark and this number has increased since then, said Anne Marie Thomas, the Insurance Bureau of Canada's director of consumer and industry relations.
"Unfortunately, after a large-scale disaster like this, it is not uncommon for a full replacement to take 18 months or more."
Inflation pressures, supply-chain disruptions, demand for building materials and labour shortages have all had impacted the time it is taking to repair or replace damaged properties.
"The more structural damage a property has suffered, the harder repairs or replacement will be and the higher the costs will be," Thomas said. "The length of time to complete repairs also depends on the availability of contractors and supplies as well as securing any necessary building or demolition permits from local government.
Article content
"Insurers want to resolve claims in a timely and efficient manner. Nobody wins when there are delays in facilitating claims."
It has been a frustrating year, mostly because the process was not clear, Duane Faris said. His mother is tough, but the past year has been stressful for her.
"There was no good understanding of what was happening or not happening," he said.
But Hilary and Dale have only praise for the Hampton Inn & Suites. She has enjoyed the parade of people coming and going at the hotel. Late last winter, people from all over the world who had come to the Ottawa area to see snow stayed at the hotel.
"We'll miss the people at this hotel. They have all been so kind to us," Hilary said.
Hilary is a silver-linings kind of person. She is grateful for the support of children Duane, Beth and David, friends and their "church family" at Cedarview Alliance Church.
Article content
Other people are also still struggling to get their homes repaired, Duane said.
"This is not meant to be the misery Olympics. I don't want the gold medal for misery," he said. "There are some people who are only starting to rebuild now. There are roofs that haven't been fixed yet. But the news cycle moves on and people forget."
The end is in sight for Hilary and Dale, though. She hopes they will be back in the Pineglen house in June in time for their 57th wedding anniversary.
"Everyone has tried to help us get through this. It sounds terrible, but it's not as terrible as it could be."