"Our surpluses have melted like glaciers under the sun of climate change," Energy Minister Pierre Fitzgibbon says.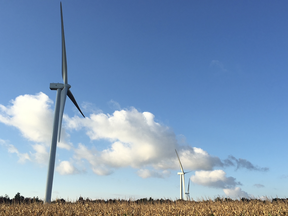 Article content
The era of large energy surpluses is over, Quebec's energy minister says.
Article content
The province will need to find ways of significantly boosting energy output over the next decades to meet the needs of both companies and residential customers, and not all industrial projects will be approved, Pierre Fitzgibbon said Friday. Even so, Hydro-Québec will honour its long-term commitments to export power to New York state and Massachusetts, he said.
Article content
Demand for electricity in Quebec is surging — so much so Hydro-Québec has predicted current power surpluses would disappear by the end of 2026.
"Our surpluses have melted like glaciers under the sun of climate change," Fitzgibbon in a lunchtime speech to the Chamber of Commerce of Metropolitan Montreal at Palais des Congrès.
"To achieve decarbonization and develop our strategic sectors, we will need energy. Lots and lots of energy. Is it 100 terawatt-hours? 150 TWH? More? As we look toward 2050, I know one thing: nobody really knows. But one thing is for sure, the needs will be huge. And for the next 10 years, it will be tight and choices will have to be made."
Article content
Demand from industrial users is such some projects will need to be turned down, he said. Whereas only one project of more than 50 MW has been completed in Quebec during the last two decades, the minister said he currently has more than 50 such projects on his desk.
"We will not be able to supply all the projects of all the companies," Fitzgibbon said.
Quebec's recently adopted Bill 2 gives the government the power to award blocks of five megawatts and more because the province no longer meets industrial demand, Fitzgibbon said.
"We will choose projects that will contribute to decarbonizing Quebec, that help our strategic industries and that create collective wealth," he said.
Fitzgibbon insisted the province will honour its commitments to export power to New York state and Massachusetts.
Article content
"The good thing about the contracts is that they will allow for the development of interconnections," he said. "The more Quebec is connected to its neighbours, the better it can sell its own electricity."
Fitzgibbon also reiterated a call for Quebecers to consume less energy — though he acknowledged the change won't happen overnight.
"If we want to achieve our decarbonization objectives, we must change our behaviour," he said.
"Being energy-wise is just common sense. I know that it's going to take time to change our mentalities. Quebecers have been told for a very long time that we have plenty of electricity and that Hydro-Québec is part of their heritage."
Over the next 10 years, Hydro-Québec wants to achieve 25 terawatt-hours in energy savings, the minister said.
Article content
"That's three times more than the current target. We have a big job ahead of us and we'll have to mobilize, all of Quebec."
Fitzgibbon said he's not ruling out new dams, but their construction has to be accelerated. Hydro-Québec is currently studying the potential of the Petit-Mécatina River, and joint hydroelectric projects in Newfoundland and Labrador — in partnership with the province and aboriginal communities — are possible, he said.
As things stand now, building a new dam in Quebec can "easily" take 10-15 years, while installing a transmission or distribution line can take five to eight years, according to the minister.
"It's a long time. It's a very long time. It's too long," Fitzgibbon said. "In our reform, we need to find ways to speed up projects."
Article content
Quebec will also seek to increase its wind power generation capacity, the minister said. Quebec's 40 wind farms currently produce nearly 4,000 MW of energy — a figure Fitzgibbon said he wants to quadruple by 2040.
"That's the minimum," he said.
A new bill on the supervision and development of clean energy in Quebec will be tabled during the next parliamentary session, Fitzgibbon said.
"I say 'reform,' but in reality, it's an energy revolution that needs to be done," he said. "That's why I agreed to run for a second term."
If it were not a state-owned entity, Hydro-Québec would be valued at $250 billion to $300 billion, the minister said.
"People don't realize it, but Hydro-Québec is our industrial giant," he said. "It has the valuation of companies like Costco, Shell, Toyota, Nike or Disney."
"It's high time we treat it as such."
Proceedings Friday were held up for more than 10 minutes as hundreds of Confédération des syndicats nationaux members broke into the room before Fitzgibbon's arrival to wave flags, shake cowbells and chant slogans to protest against what they say is a privatization of Quebec's health-care system.
CSN union executive Dominique Daigneault also took the stage with a bullhorn to denounce Health Minister Christian Dubé's proposed reform.